Programs & Projects
Current programs and projects run through the NWO Women's Centre are found below:
Thunder Bay Good Food Box
Please visit the Good Food Box Facebook page to see up-to-date news and information!
What is the GOOD FOOD BOX?
The Thunder Bay Good Food Box is a non-profit, volunteer powered, community based, food security initiative, administered by the Northwestern Ontario Women's Centre since 2005. It is a fruit and vegetable distribution program that aims to improve access to good food by making quality, fresh produce available at a low cost in neighbor-hoods across our city. It is intended to assist individuals with low or fixed in-comes access affordable fresh produce 12 months a year.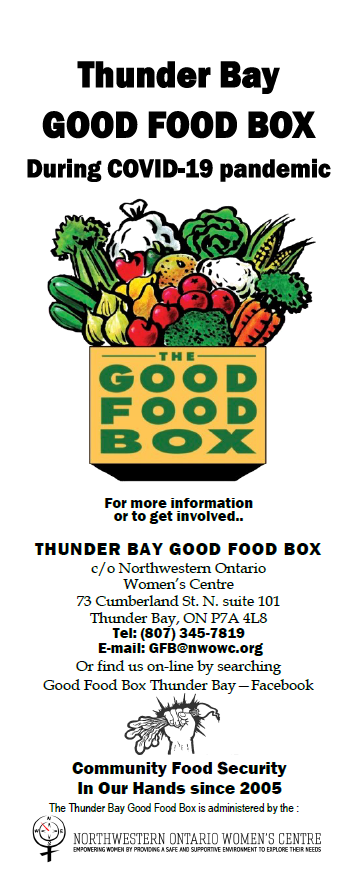 Buying a Good Food Box gives you a low cost way to get fresh produce delivered to your neighbourhood or building. Produce is ordered from a local grocery store, and includes seasonal, locally grown fruits and vegetables. It is also a great way to get connected and involved in your community.
Due to our current limitations during the COVID-19 pandemic, there is currently only ONE size of box for $22 (previously offered two sizes for individuals and families). Boxes have slightly less variety than you may be used to, as we are only ordering produce in full portion sizes (i.e. a full bag of potatoes, a full bag of apples etc.). There are typically 7-9 different items per box. There are still feature items and a newsletter with easy healthy recipes in every box.
No one needs to provide proof of income to sign up. Participants pay for the Good Food Box on the first Wednesday of each month at a neighbourhood host site. The boxes are dropped off at the host site on either the second or third Wednesday each month. For more information about the program or host site locations please call (807) 345-7819, or email goodfoodbox@tbaytel.net.
The Northwestern Ontario Women's Centre Good Food Box Program is supported by the Government of Canada's Emergency Community Support Fund, the Thunder Bay Community Foundation and the United Way of Thunder Bay.
Those interested in volunteering with the program are encouraged to contact the GFB co-ordinator at (807) 345-7819 or goodfoodbox@tbaytel.net. Volunteers help sort and pack produce, coordinate host sites, help deliver to neighbourhood sites and contribute recipes and cooking tips to the newsletter. the NWOWC relies on public funding and donations to support the Good Food Box program. For more information on donations, please visit our Donate page.
High Risk Navigation
A woman is killed every two days in Canada and one is murdered by her intimate partner every six days. Rates of gender based violence in Thunder Bay are amongst the highest in Canada, and we also face a legacy and present reality of many murdered and missing Indigenous women due to our colonial practices. Gang violence and related human trafficking activity is increasing here as well.
By routinely releasing perpetrators who have committed serious assault, the courts are sending a clear message to men who use violence and to the general public: those who perpetrate gender-based violence can do so with impunity. Many women are living in fear; child welfare agencies find themselves apprehending children from non-offending mothers simply because no one can control the risk posed by the abusive partners or ex-partners.
Unfortunately, the focus on criminality in the legal system tends to overlook safety considerations for women. The existing MAG High Risk committee is by invitation only; is administered only by Crown's Office and uses it's own adapted risk assessment. As a result, it has limited communication with other sectors, including those who bring cases forward to them. Many women, especially Indigenous women, now do not call police in cases of GBV; many perpetrators manage to avoid criminal involvement. For this reason, many high risk cases are never brought to the attention of the Crown's committee, and only come to light through child welfare involvement, at social service tables such as the Child Welfare / VAW Leads Collaborative.
In addition to these structural problems, we also face some attitudinal barriers. The general public needs to be exposed to a new narrative that values the lives and well being of women and children, especially those who are Indigenous. Legal and social service providers need to integrate an understanding of the impacts of colonialism, gender based violence and trauma. Trusted Intermediaries need to be seen as integral supports to the administration of justice.
We need to address these problems at multiple levels – public education; professional training based on new research; intensive coordination across sectors in risk management and safety planning; and an investment in and recognition of the central role women's advocates play in maintaining women's safety and access to justice.
The High Risk Navigation project is funded by the Law Foundation of Ontario and operates in partnership with the Thunder Bay District Coordinating Committee to End Woman Abuse. It aims to support women, their children, and others who are at high risk of gender based violence, through the development of a cross-sectoral advocacy protocol. The project builds working connections and shares expertise, while providing training and knowledge exchange between women's anti-violence advocates and legal system players. This includes consulting and gathering valuable knowledge from an advisory committee of women's anti-violence advocates.
Please contact Mehdia Hassan for more information. (807) 345-7802 or hrnproject@nwowc.org.
Family Law/Legal Education Clinic Series
The NWOWC provides workshops and information sessions addressing a variety of topics related to family law, legal issues and safety in the context of Violence Against Women. Within this legal education program, the Sister Survival Skills series offers workshops on women's safety concerns, for women only.