---
Zine Workshop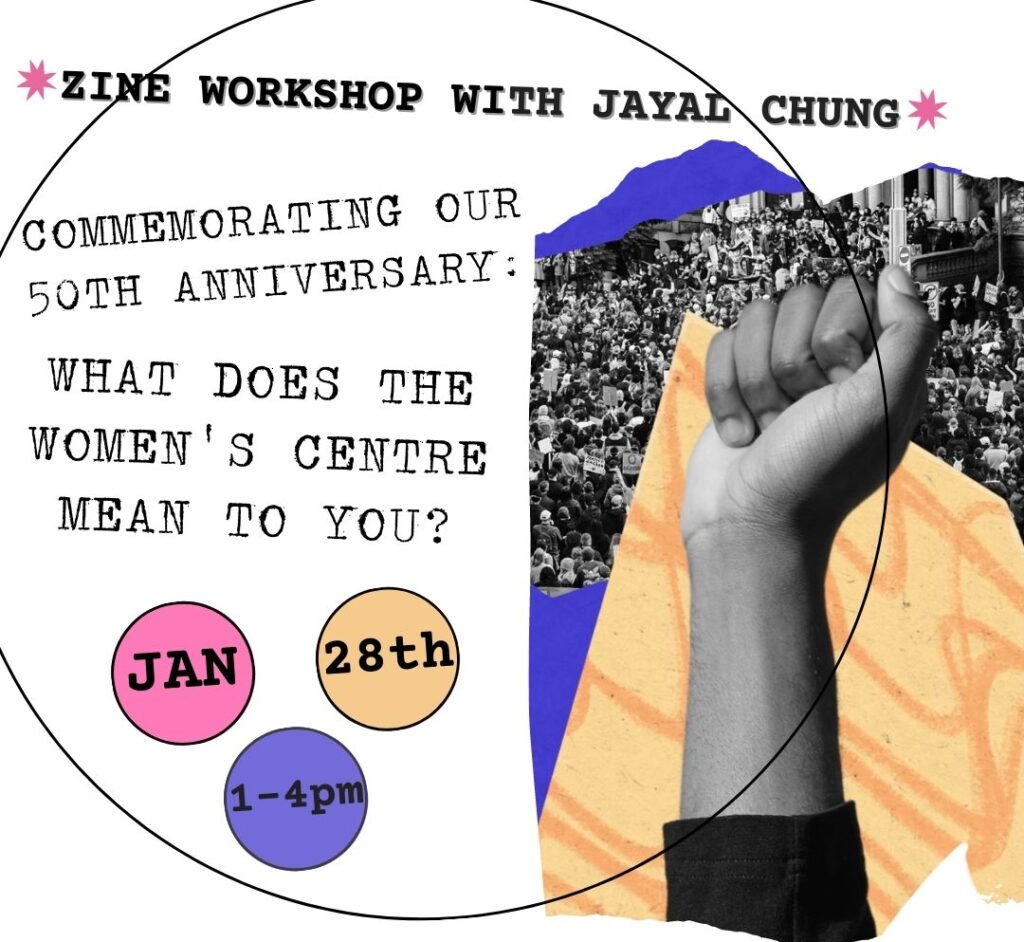 We're hosting an in-person zine-making workshop with artist Jayal Chung at the Women's Centre!
We hope everyone can start (and maybe even finish!) their own small zine on the subject of their choice, and also make a contribution to the collaborative zine celebrating our 50th anniversary!
Refreshments will be served. A zoom option is available but may not offer the same teaching/sharing opportunities as in-person.
Register online by January 26th: Zine Workshop with Jayal Chung
---
Call for Submissions: stories, poems, clippings, artwork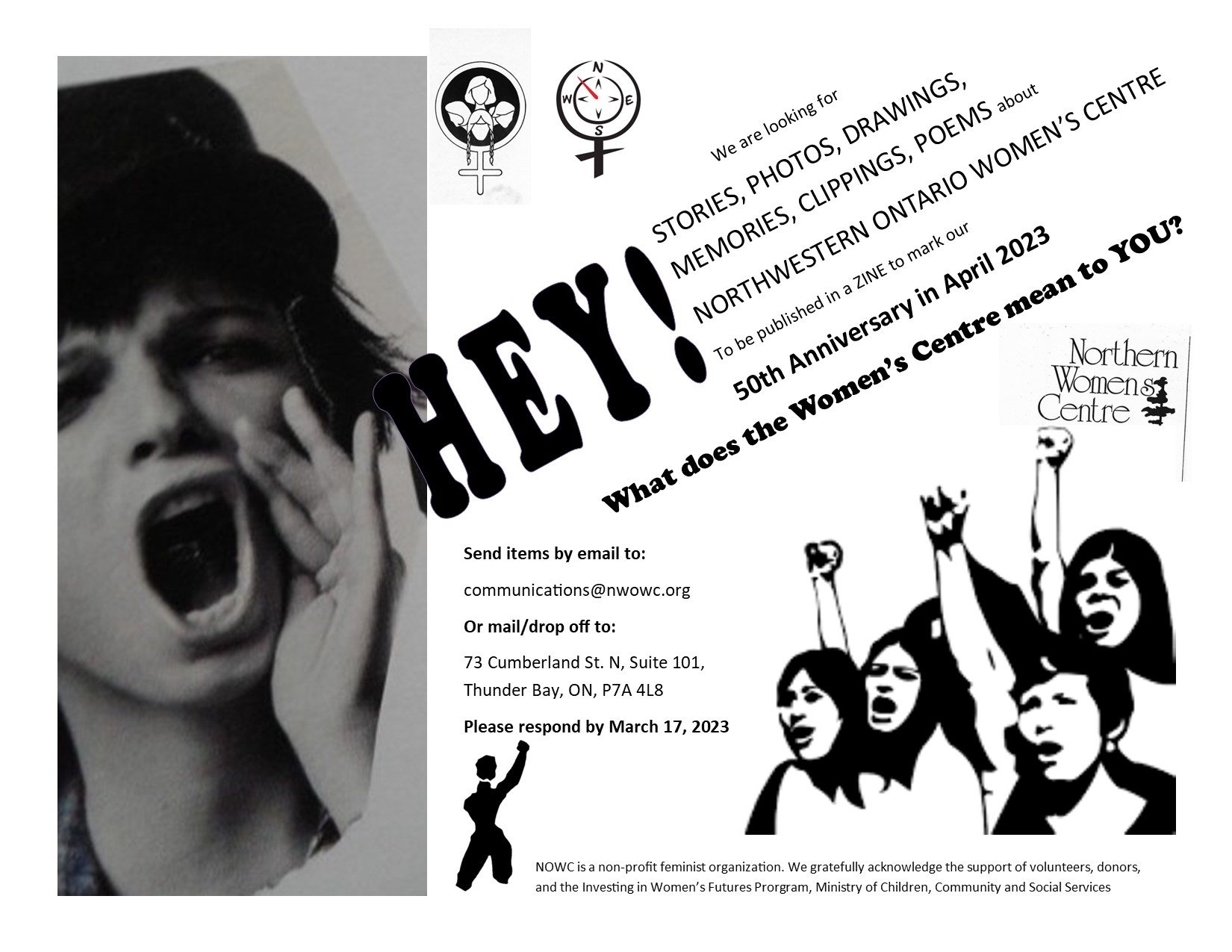 Send inquiries and/or submissions to [email protected] by March 17th!
---
Job Opportunity: Event Coordinator – POSITION FILLED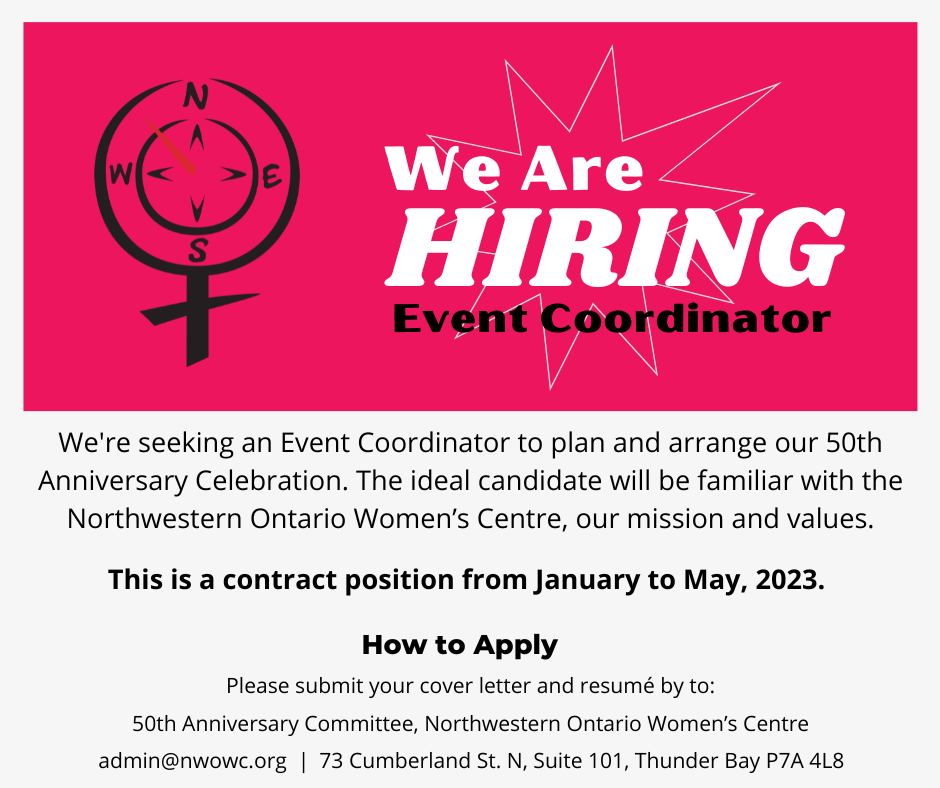 Full job description: Event Coordinator
---
Anniversary Announcement + Call for Donations
Dear Members and Supporters:
The Northwestern Ontario Women's Centre is about to celebrate 50 YEARS of feminist organizing and advocacy–and we need your help to do it!
For five decades (1973-2023), the Northwestern Ontario Women's Centre has worked to improve women's safety and access to justice. As an equality-seeking, social justice informed and intersectional feminist organization, run by and for women in the Thunder Bay area, we have engaged in community outreach and public education efforts, advocated for systemic change, and provided a safe space for all self-identified women to gather. We've launched programs to address economic inequality, food insecurity, and gender-based violence, while empowering women to share creative strategies with one another and be their own best advocates. You can learn more about past and current projects on our websites: nwowomenscentre.org, actiontoanalysisgbv.org and GoodFoodBoxtb.org.
We have big plans to mark our 50th Anniversary! Of course we'll be dancing, but we'll also create a special anniversary logo and produce commemorative merchandise, publish a zine featuring historical/archival and current contributions from our community, and host a celebratory event to honour the volunteer service of our long-standing Board Members.
For 50 years, the Women's Centre has continued to act as a meeting place and catalyst for feminist organizing and women-led efforts. If you have the means, please consider supporting our fundraising efforts! We welcome donations of any amount by cash or cheque, e-transfer, pre-authorized deposit, and through United Way Thunder Bay and CanadaHelps. We provide charitable tax receipts for monetary contributions over $20. Get in touch with Lori at [email protected] for more information.
Follow us on Facebook @nwowc and subscribe to our new e-newsletter, Feminist Dispatch, to stay in the loop about our anniversary plans and join us in the celebrations!