Thunder Bay COVID-19 SURVIVAL GUIDE
compiled by Gabriela Ciolca, Gwen O'Reilly and Lori Gilbert
Please note that this information may change!
Current Date: August 6, 2020
Please email Gwen at ed@nwowc.org if you have corrections or updated information to add.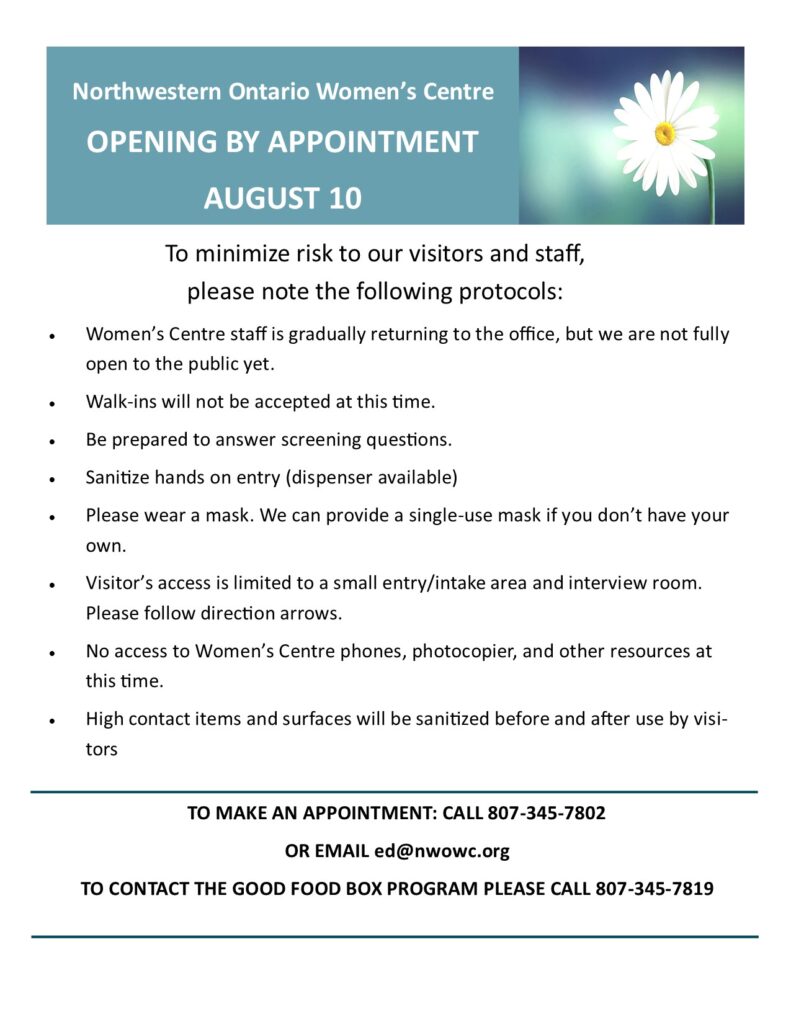 ABOUT COVID-19
The 2019 novel coronavirus (COVID-19) causes a respiratory illness. The first presumed case of this infection in Ontario was identified on January 25, 2020. Coronaviruses are a large family of viruses that can cause illnesses ranging from the common cold to more serious respiratory infections like bronchitis, pneumonia or severe acute respiratory syndrome. Coronaviruses are spread mainly from person to person through close contact, for example, in a household, workplace or health care centre. Some human coronaviruses spread easily between people, while others do not. COVID 19 seems to spread easily. Your risk of severe disease may be higher if you have a weakened immune system. This may be the case for older people and people with chronic disease (for example, diabetes, cancer, heart, renal or chronic lung disease).
Up to date information can be found on the World Health Organization and Public Health Agency of Canada websites. 
www.ontario.ca/coronavirus - The Ontario Ministry of Health reports on the status of cases in Ontario each morning at 10:30 am   
www.TBDHU.COM/coronavirus - The Health Unit's website contains links to credible sources of information for both the public and local health care providers. 
Public Health Agency of Canada: https://www.canada.ca/en/public-health/services/diseases/coronavirus-disease-covid-19.html
As of Friday, July 24th, wearing a mask in the community is required when entering indoor public spaces. Masks are also recommended in any setting where it is difficult or not possible to keep 2m from others. Masks continue to be mandatory in personal service settings.
As of August 2, 2020, the Thunder Bay District Health Unit has reported 98 confirmed cases. There are 44 active cases in the district as of August 4. The virus can likely also be spread by people who do not show any symptoms, which means it is important to continue to observe sanitation protocol.
To Reduce the Risk of Acquiring a Virus
School re-opening: find resources and guidance for safer return to school, day-care and day camps/overnight camps at Thunder Bay District Health Unit https://www.tbdhu.com/schools
Wash your hands often with soap under warm running water for at least 20 seconds (tip: sing Happy Birthday twice). Wash your hands before you leave home, and as soon as you come home.
Avoid touching your face, and make sure your hands are clean if you do.
Use alcohol-based hand sanitizer only if soap and water are not available. It's a good idea to always keep some with you if you have to go out.
Practice proper cough and sneeze etiquette to reduce spread of germs: sneeze/cough into a tissue and then dispose of it as soon as possible, then wash your hands; or if no tissue available sneeze/cough into your arm/elbow.
Sanitize high contact surfaces: cell phones and other devices, including computer keyboards, doorknobs, armrests, light switches, toilet handles etc.
A mask is important to use if you exhibiting symptoms to prevent you from spreading the infection. It is not clear whether or not wearing a mask offers added protection from infection. Latex gloves may not protect you, or others if you are wearing them for longer periods of time, reusing them or touching your face with them.
If you become, or are, symptomatic (i.e. develop a fever, cough, difficulty breathing, you are advised to isolate yourself at home (away from others) as quickly as possible.
DO NOT VISIT, but IMMEDIATELY CONTACT BY PHONE Telehealth Ontario – 1-866-767-0000 , a health-care professional or Thunder Bay District Health Unit at 807-625-8318 . Describe your symptoms and travel history, follow their instructions and continue to remain home until medical clearance is received to get tested or treated.
If you are returning home from travelling and have no symptoms, you must still remain home (self-isolate) for 14-days before returning to work or having contact with others. The government may now be enforcing quarantine periods.
HEALTH
Your doctor is now able to provide service to patients by phone.
Telehealth Ontario – 1-866-767-0000
Thunder Bay District Health Unit – https://www.tbdhu.com/coronavirus#
999 Balmoral Street
Thunder Bay, ON   P7B 6E7
Tel  : 807-625-5900 / 807-625-8318
Toll : 1-888-294-6630 (807 area only)
Fax : 807-623-2369
Web : www.tbdhu.com
The Ontario government has also waived the three month OHIP wait and says that the province will cover the cost of COVID-19 services for uninsured people.
Ontario Ministry of Health has issued the following directive to hospitals about people without OHIP cards, or those uninsured by OHIP during the COVID-19 outbreak:
"…the Ministry requests hospitals provide all medically necessary services to all persons who present at a hospital, regardless of whether the person presents a valid OHIP card, or does not have health insurance under OHIP or another provincial health insurance plan. Services for uninsured persons should be prioritized consistent with the prioritization of services for insured persons." And: "the Ministry, through its agencies, will provide payment to hospitals for both the physician and hospital services provided to all such patients"
Thunder Bay Counselling is providing all of their services by phone, video or online counselling. Call 684-1880. The Walk-In Clinic, in partnership with Children's Centre Thunder Bay, has expanded and is available by phone or video every weekday please call 700-0090 for more information about Talk-In
Canadian Mental Health Association https://www.camh.ca/en/health-info/mental-health-and-covid-19#coping Crisis Response is back to regular operations 24/7. We appreciate your patience.
Let's talk. We listen. We are here to help. If you or someone you know is in a crisis, please call:

Thunder Bay: 807-346-8282
District / Toll-Free: 1-888-269-3100
Northwest Region: 1-866-888-8988
Student Health and Wellness – During this challenging and uncertain time, it's normal to feel stressed, overwhelmed, or worried for your own health, as well as that of your family and friends. Here are some ways you can take care of yourself: https://www.lakeheadu.ca/students/wellness-recreation/student-health-and-wellness/wellu
FOOD
Some Food Banks are currently closed. The Salvation Army has closed their food programs for now. The Regular Good Food Box program is currently in the process of transitioning back to the regular program. For updates on the Good Food Box Program call (807)-345-7819 or email gfb@nwowc.org.
Various grocery stores offer free delivery and store pick up and will provide online orders. Example: Maltese, Georges Market, Superstore, Walmart, but may now be overwhelmed and unable to provide timely delivery.
OPEN – Some emergency food providers are offering take-out meals or hampers for pick up. Some organizations are dropping off food in various neighborhoods.
Roots to Harvest – Food distribution for families (weekly) at 8 locations across the city. For more details call (807) 285-0189 http://www.rootstoharvest.org/covid-19.html
RFDA – (807) 622-7440
Dew Drop In – 294 Red River Rd, Thunder Bay, ON P7B 1A8. For more details call (807) 345-0481
Grace Place -235 Simpson St, Thunder Bay, ON P7C 3H6.For more details call (807) 473-3538
Shelter House – 420 George St, Thunder Bay, ON P7E 5Y8. For more details call (807) 623-8182
Meals on Wheels: Ontario Ministry for Seniors & Accessibility, in partnership with Ontario Community Support Association is helping to provide delivery of meals, medicines and other essentials. The program will expand existing Meals On Wheels capacity to ensure that seniors, people with disabilities and those with underlying medical conditions receive supports as quickly as possible. To volunteer: www.sparkontario.ca and To access services: www.ontariocommunitysupport.ca
SAFETY
If feel you are in immediate danger, or if you are injured, call 911.
Canada announces support to those experiencing homelessness and women fleeing gender-based violence during the coronavirus disease (COVID-19) pandemic – Canada.ca https://www.canada.ca/en/employment-social-development/news/2020/04/canada-announces-support-to-those-experiencing-homelessness-and-women-fleeing-gender-based-violence-during-the-coronavirus-disease-covid-19-pandemic.html
Most local women's services are still answering phones and emails, even if remotely. Women's Shelters, Talk For Healing Help Line and Victim Witness Assistance are continuing to work with women experiencing violence.
Faye Peterson Transition House Women's Shelter: 24/7: 807-345-0450, 1-800-465-6971
Beendigen Women's Crisis Home: 24/7: 807-346-HELP (4357), 1-888-200-9997
Talk 4 Healing Help Line: Talk, text or chat in 14 Indigenous languages: 1-855-554-HEAL(4325); www.talk4healing.com
Monday, April 20, 2020, the Canadian Human Trafficking Hotline has implemented a remote operations strategy and resumed operating 24 hours a day, 7 days a week.
Our Hotline Response Advocates are available to connect victims and survivors with local services in communities across Canada at 1-833-900-1010 or through chat on our website.
Sexual Abuse Centre Thunder Bay: 345-0894; 24 hour Crisis Response 344-4502
Domestic Violence / Sexual Assault Treatment Centre TBRHSC (hospital): 684-6751; or go directly to emergency and ask for the Sexual Assault nurse.
Coalition to End Human Trafficking: 683-4813 Help line will be reopening March 31st.
Victim Witness Assistance Program (Thunder Bay Courthouse) are still operating and can help women with urgent court matters. 1-888-579-2888
Thunder Bay & Area Victim Services provides an alternative choice for reporting a crime and/or tragedy. We provide confidential support, education and referral services to victims of crime and tragic circumstances. 24/7 crisis response line 1-807-684-1051
Assaulted Women's Helpline: www.awhl.org 1-866-863-0511 #SAFE (#7233) Bell, Rogers, Telus, Fido
FEM'AIDE: 1-877-336-2433
Ontario Coalition of Rape Crisis Centres: https://sexualassaultsupport.ca/covid-19-pandemics-and-gender-ocrcc-statement/
Women's Shelters Canada
This open-source document contains a list of resources and practices being used by organizations who support women living in shelters and transition houses during the COVID-19 pandemic. The content is available in English and French.
https://www.homelesshub.ca/resource/resources-vaw-shelters-and-transition-houses-responding-covid-19
Ministry of Attorney General announces the implementation of temporary enhancements to some benefits provided through the Victim Quick Response Program+ (VQRP+). Specifically, temporary accommodation and meals benefits have been enhanced to ensure victims of crime, particularly domestic violence, can access safe living arrangements while complying with self isolation requirements. This includes expanding the maximum benefit for hotel stays to $3,150 and meals and groceries to $840.
It is important to note that VQRP+ eligibility remains unchanged through this process. For more information on VQRP+ eligibility, please visit our website: https://www.attorneygeneral.jus.gov.on.ca/english/ovss/vqrp.php
HARM REDUCTION
Elevate https://elevatenwo.org/ Office closed, but lobby is open for harm reduction supplies, M-F 11 am – 3 pm. Elevate website has updates on Superior Points, Salvation Army, Path 525 and Thunder Bay Counselling
Path 525 is still offering supervised injection, referral to services, supplies, etc. Monday- Saturday 10am-6pm. 5:30 injection room last call
GAPPS program https://thunderbay.cmha.ca/programs-services/getting-appropriate-personal-and-professional-support-gapps/
The Rapid Access Addiction Medicine (RAAM) Clinics are operating and continue to serve the community during the COVID-19 pandemic. Clients can call (807) 626 8478 to book an appointment, and referrals are still being accepted from service providers. Please see https://www.tbaycounselling.com/addiction-mental-health/rapid-access-addiction-medicine-clinic/ for more information and for the referral form. RAAM clinics are now operating out of Norwest Community Health Centre ONLY at 525 Simpson Street, Monday to Friday, during regular clinic hours. Walk-ins have been paused for the time being, but clients can call us to schedule an appointment. Those looking to book an appointment can call: (807) 626-8478. RAAM provides rapid access to specialized addiction medicine, counselling, and peer support at both sites, and virtually.
Safer Drug Use During the COVID-19 Outbreak Harm Reduction Coalition – This tip sheet includes harm reduction tips and safer drug use practices during the COVID-19 pandemic. This resource is helpful for front line workers and can be printed and given directly to service users. https://www.homelesshub.ca/resource/safer-drug-use-during-covid-19-outbreak are still offering supervised injection, referral to services, supplies, etc. Monday- Saturday 10am-6pm. 5:30 injection room last call Elevate https://elevatenwo.org/ Office closed, but lobby is open for harm reduction supplies, M-F 11 am – 3 pm. Elevate website has updates on Superior Points, Salvation Army, Path 525 and Thunder Bay Counselling
INCOME SECURITY
Paying back the CERB ~ information from CLEO
When the Canada Emergency Response Benefit (CERB) was first introduced, the government accepted most applications without checking to make sure that people were eligible. Now they're planning to do this.
If someone got the CERB when they should not have, the government says that they'll have to pay it back. This month's On the Radar looks at repaying the CERB and how this works.
What's the CERB?
The CERB was introduced on March 25, 2020, to help people who had to stop working because of COVID-19. It pays $500 a week for up to 24 weeks.
This means that people can get up to $12,000 from the CERB.
Everyone who applied was accepted
Because the CERB was made for an emergency, the government treated speed as a priority. This meant that they accepted almost everyone who applied, without checking whether they qualified.
All people had to do was "attest" or promise that they were eligible. They did not have to show proof.
Applying and not being eligible
The CERB eligibility rules are not straightforward. There are slightly different rules depending on whether someone applies through the Canada Revenue Agency (CRA) or Service Canada.
And there are several ways that a person could qualify through each of these agencies. This makes it very easy for a person to think that they qualify when they don't.
Some people may have been told to apply by their Ontario Works or Ontario Disability Support Program caseworkers even if they did not qualify.
Here are some situations where a person might worry that they got the CERB when they should not have:
They think that they earned more than $1,000 a month while getting the CERB.
They miscounted or did not understand the amount of time that they had to stop working before applying for the CERB.
They're not sure whether the $5,000 they need to have earned to qualify for the CERB was insurable income. This applies only to people who applied for the CERB through Employment Insurance or Service Canada.
They don't think that they earned the required $5,000, either in 2019 or in the year before they applied.
For other people, their eligibility may not be clear because of why they left their job. This is important because you can't get the CERB if you voluntarily quit.
So, a worker might think that they quit, while their employer says that they were laid off. This will often be the case when an employee is constructively dismissed because of changes to their job. Because of all the changes to people's work during COVID-19, this may apply to many workers.
Getting legal help
If someone is not sure whether they should have received the CERB, it's important to get legal help before they decide to make a repayment.
They can talk to a lawyer or a community legal clinic.
Repaying CERB money
It's not clear how the government is going to find people who should not have received the CERB. But they'll likely do this next year when people do their income tax returns.
In the meantime, if someone knows that they should not have received the CERB and is able to pay the money back, there are a number of ways to do this:
They can return their CERB cheque, or write a new cheque, and mail it to Service Canada or the CRA.
They can use their internet banking by choosing the "Canada Revenue Agency – tax instalment" or "Employment and Social Development Canada" as the payee and use their Social Insurance Number (SIN) as the account number.
They can repay the money at their bank, using their SIN as the account number.
They can use their CRA My Account to return the money online.
The CRA is asking people to repay before December 31, 2020. If a person repays the CERB before this time, the government says that they won't be fined or get some other penalty.
This will be a very short timeline for many people. If someone needs more time to pay the CERB back, they can contact the CRA at 1-800-675-6183 and ask to set up a payment plan. If they can pay at least some of the money right away this will help to show the CRA that they plan to pay the money back.
Anyone making these arrangements with the CRA needs to:
take careful notes of any telephone conversations
save any emails in a safe place
At the moment, the government is not charging interest on CERB money that people pay back.
Up to date Financial Counselling available from Thunder Bay Counselling (807) 684-1880. Counsellors will help you: Understand and access COVID-19 supports; Navigate loan, utility, and other payment relief options; Work with you to adjust your budget when needed
CLEO has published a useful chart to clarify eligibility for benefits and how to apply: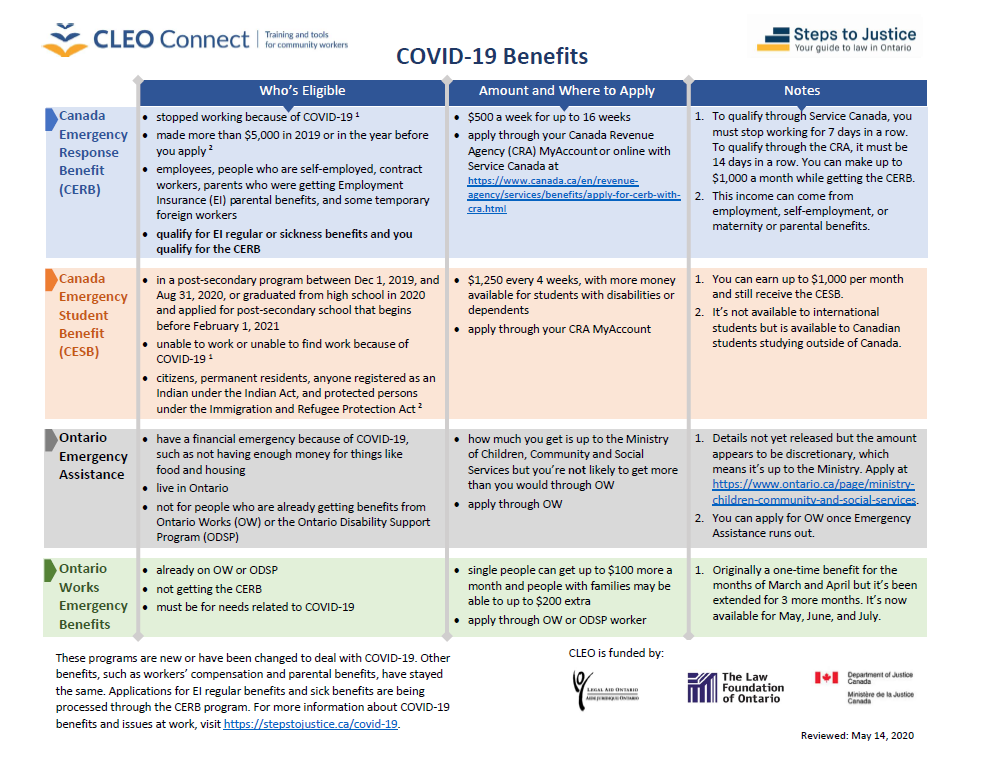 Ontario Works – Should proceed as usual. Next payment date is April 1, 2020. OW is supposed to be waiving requirements for any income information or reporting for special diet or work hours and all existing benefits will continue. There should be no automatic cut offs of benefits at this time. Call your worker if there are problems and then call Kinna-aweya Legal Clinic if the problem is not resolved.
Social assistance treatment of the Canada Emergency Response Benefit (CERB)
We know these are unprecedented, and uncertain times, especially for individuals who are receiving social assistance from Ontario Works (OW) and Ontario Disability Support Program (ODSP). Recognizing the new federal Canada Emergency Response Benefit (CERB) is an income replacement program, it will be treated as such. Ontario will partially exempt income received under the CERB for OW and ODSP clients who were on the program prior to the COVID-19 outbreak. This approach enables existing clients to partially stack CERB and SA payments, and to continue to access health and other benefits while receiving CERB.
Details regarding eligibility for CERB are available on the federal government's website.
*For existing Ontario Works (granted prior to March 1st, 2020) and all ODSP applicants/recipients CERB payments will qualify for a partial exemption: the first $200, and 50 per cent of each additional dollar received in a month will be exempt.
For new and recent Ontario Works applicants – those granted on or after March 1st, 2020–CERB payments will be deducted dollar-for-dollar when determining eligibility for social assistance.
ODSP – Effective immediately and until further notice: – No need for income reporting submission at this time (unless electronically submitted).
Special Diet Allowance, if already in place, will continue, even if set to expire – clients are not to worry about getting their forms signed or submitted for now.
No requirement for verification for Mandatory Special Necessities.
The office will remain open but refrain from seeing clients in person and face-to-face interactions.
Canada Child Benefit and Ontario Child Benefit
The Canada child benefit (CCB) is a tax-free federal benefit paid monthly to help with the cost of raising children under 18 years of age. Eligible families receive up to a monthly maximum of $553.25 for each child under 6 years of age or $466.83 for older children.

The federal government has announced that the May 2020 payment will be increased by up to $300 per child, for one time only. Each family receiving CCB will get an average of $550 more than other months, depending on their number of children and income level.
There has been no change to the OCB or Transitional Child Benefit as of yet.
Employment Insurance
Canada Emergency Response Benefit (CERB) support for employees and self-employed
https://www.canada.ca/en/services/benefits/ei/cerb-application.html
On March 25, 2020, the federal government announced they will be replacing the two previously announced Emergency Care and Emergency Support benefits with the new Canada Emergency Response Benefit (CERB). The Employment Insurance Sickness Benefit remains unchanged from the previous announcement. 
If you applied for EI regular or sickness benefits on March 15, 2020 or later, your claim will be automatically processed throught the Canada Emergency Response Benefit. If you have not yet applied, the new online application is available starting April 6.
For the ONLINE APPLICATION visit: https://www.canada.ca/en/services/benefits/ei/ei-sickness/apply.html
To apply for EI benefits, you can visit the website. Afterwards, you can apply to have the one-week waiting period waived by calling the government's toll-free number at 1-833-381-2725, or teletypewriter at 1-800-529-3742. Job search requirements are likely suspended for the time being.
Service Canada offices are now closed to the public.
Workers — including the self-employed — who are quarantined or sick with COVID-19 can apply, as can those staying home to take care of a family member with COVID-19 who doesn't qualify. Parents staying home to care for children because of school closures are also covered and can apply whether or not they qualify for EI.
Canada Emergency Response Benefit (CERB) support for employees and self-employed https://www.canada.ca/en/services/benefits/ei/cerb-application.html
On March 25, 2020, the federal government announced they will be replacing the two previously announced Emergency Care and Emergency Support benefits with the new Canada Emergency Response Benefit (CERB). The Employment Insurance Sickness Benefit remains unchanged from the previous announcement. 
CPP and OAS is not considered employment income. What that means is if a person is getting CPP / OAS and working and has stopped working after March 15 for reasons related to COVID 19 they are eligible for CERB. (clarification provided by OCASI)
Plain Language Explainer of Federal Emergency Funds
Jennifer Robson / Carleton University
With policy updates released daily, it can be challenging to navigate the current information available on provincial and territorial supports individuals facing challenges paying rent can access due to the COVID-19 pandemic. This comprehensive and easy to read list is a great tool to review the various federal emergency funds offered. https://www.homelessnesslearninghub.ca/library/resources/plain-language-explainer-federal-emergency-funds
Income tax and CRA
UPDATE June 11: Lakehead Social Planning Council here in Thunder Bay is offering virtual tax clinic help to anyone in Northwestern Ontario, including remote and urban FN communities! People can still file their income tax and benefit return even though we are past the June 1st deadline, this will ensure their benefits and credits continue past September 2020.
Canada Revenue Agency will defer its filing due date for the 2019 tax returns of individuals and certain trusts. For individuals, that means the filing date has been pushed back to June 1. The original filing date was April 30.
Student loans
Six-month interest-free moratorium on the repayment of Canada Student Loans for anyone currently in the process of repaying one. The measure is expected to be implemented in early April.
For more details visit: https://www.canada.ca/en/department-finance/news/2020/03/canadas-covid-19-economic-response-plan-support-for-canadians-and-businesses.html
EMPLOYMENT / JOBS
The Ontario Legislature has passed the Employment Standards Amendment Act (Infectious Disease Emergencies), 2020 to provide job-protected leave to employees in isolation or quarantine due to COVID-19, or those who need to be away from work to care for children because of school or day care closures or to care for other relatives.
During the COVID-19 outbreak, you cannot be fired from your job although you may be laid off temporarily.
If in quarantine or self-isolating you do not need to provide a doctor's note to your workplace in order to take sick leave or to qualify for EI for sick benefits.
Updates from CLEO:
Service Canada in-person services are closed. https://www.canada.ca/en/employment-social-development/news/2020/03/covid-19-in-person-service-canada-centres-to-be-closed.html
Updates from OCASI:
Ontario has just launched a Healthcare Workforce Matching Portal.
It has 4 categories:
Regulated Health Professionals – i.e. licensed in Ontario
Other health professionals not regulated by statute eg. PSW, physicians's assistants
Learners who have begun but not completed training
Volunteers with key skills such as infection prevention and control by cleaning and disinfecting
Resources for businesses from Thunder Bay Chamber of Commerce: http://tbchamber.ca/covid19/
HOUSING
Update August 6 from CLEO:
Evictions starting again in Ontario
Starting August 4, 2020, the eviction freeze that protected most residential tenants and homeowners from being evicted by the Sheriff has expired.
This means that if the Landlord and Tenant Board (LTB) has made an eviction order against a tenant, the landlord can have the Sheriff enforce the order by evicting the tenant and having the locks changed.
The landlord does not need to get special permission from the Superior Court, as they did during the freeze.
This applies to all eviction orders whether they were made before or after the state of emergency was declared on March 19.
Sheriff's offices usually give tenants a few days' written notice before they come to physically evict them. But there's no guarantee this will always happen. And if a tenant got a Sheriff's notice before March 19, they may not get a new one before the Sheriff shows up.
As has always been the case, landlords are still not allowed to evict tenants on their own. They must get an order from the LTB and have the Sheriff enforce it.
Get legal advice
Tenants need to get legal advice right away if they have an eviction order against them or if they get a Sheriff's notice. This is especially true if they have nowhere to go and would be put at risk of getting or spreading Covid-19.
Tenants can contact their local community legal clinic.
They can also sign up for tenant duty counsel advice at www.tdc.acto.ca or by calling 1-877-374-0391. They'll need their LTB file number, which should be on the Sheriff's notice and on any papers they got from the LTB.
more information on this news from CLEO here: https://nwowomenscentre.org/cleo-update-on-evictions/
Contact Kinna-aweya Legal Clinic if you need legal advice. 344-2478
Many advocates are now calling for rent and mortgage relief. Some banks and other lenders are providing some flexibility on mortgage payments, but not all.
Due to COVID-19 PANDEMIC people that experience hardship should not be evicted. There will be no enforcement of eviction orders. The Landlord and Tenant Board will not issue any new eviction orders until further notice, and Sheriff's offices have been asked to postpone any enforcement of eviction orders scheduled for this week.
Also in-person Landlord and Tenant Board hearings are postponed until April 9th and will be rescheduled at a later date. Options such as written and telephone hearings will be considered where practical.
It's important to note that even though evictions are stopped for a while, you will have to get caught up on your rent eventually. Don't ignore anything you get in writing from your landlord or the Landlord Tenant Board – call KALC for advice.
Agencies in the City have created a Vulnerable Population Planning team and will be addressing shelter and pandemic isolation issues for those who are homeless and other at risk.
Resource for Service Providers from the Homelessness Learning Hub
Updates from CLEO:
Finding and Securing Housing During a Pandemic Canadian Alliance to End Homelessness
This one-pager outlines tips on how front line workers can support clients to find and move into permanent housing during COVID-19—from early-stage discussions, to viewings and inspections, to lease signing and key exchange.
https://www.homelesshub.ca/resource/finding-and-securing-housing-during-pandemic%C2%A0
UTILITIES
If you are unable to pay your utilities or you need to make payment arrangements during these difficult times, contact your service provider for more details.
Property tax
 Due to the closure of the Victoriaville civic centre payments cannot be made in-person.
Property taxes & water bills:  can be paid on-line, by telephone banking, on-line with your credit card (plastiq.com – a service fee applies), in person at your bank, or by mailing a cheque to City of Thunder Bay, PO BOX 800, Thunder Bay ON P7C 5K4  
Accounts receivable invoices: can be paid by mailing a cheque to City of Thunder Bay, PO BOX 800, Thunder Bay ON P7C 5K4  
A report will be presented to Council on March 30 that provides recommendations to provide financial relief relating to taxes, water and other user fees.  Further information will be provided at that time.
Water meter/bill payment: 
Water Meter readings can be made at 625-3160; Final Reads can be sent to ctbwater@thunderbay.ca.  This email is not being monitored at this time, however final bills will be created on the reads sent.
Enbridge Gas / Union Gas – will work directly with customers who fall behind on their gas bills to establish payment plans. Eligible customers having trouble paying their bill may qualify for emergency relief to avoid having their service disconnected through the Enbridge Energy Assistance Program. Any customer who has concerns about their ability to make their utility payment should contact us at:
Union Gas: 1-888-774-3111; Enbridge Gas Distribution: 1-877-362-7434
Hydro One has Extended the Winter Relief program so no customer experiencing any hardship has to worry about potential disconnection.
Hydro One and Synergy North have dropped their rates to off-peak rates 24/7 for 45 days https://news.ontario.ca/opo/en/2020/03/ontario-providing-electricity-relief-to-families-small-businesses-and-farms-during-covid-19.html
TRANSPORTATION
Thunder Bay Transit is still offering Bus service, however it may be reduced. It is now free to ride the bus and passengers must board and exit via the rear doors. Transit Services 570 Fort William Rd. Thunder Bay, ON P7B 2Z8 or call 807-684-3744 | 807-684-2997. Check for updates at: https://www.thunderbay.ca/en/city-services/transit.aspx
URIDE Thunder Bay – for details call (807) 700-0013 or visit https://uridetech.com/thunder-bay/
Taxi – Diamond – 622-6001 / Roach Yellow Cab – 345-7721
UPDATE: Transit Seeking Approval to Move to Holiday Service
Thunder Bay Transit is seeking approval from Council's Committee of the Whole on Monday, to begin operating on a reduced Sunday/Holiday service schedule seven days a week beginning on April 1. All routes would be reduced to 45-minute service frequency and would operate from approximately 8 am – 11 pm.
TRAVEL
Just don't go! Many communities (especially First Nations) and certain provinces are restricting entry. Airline flights are limited, and all forms of public transport are now allowed to refuse use to anyone showing symptoms.
IMMIGRANT & REFUGEE INFORMATION
MCIS (Multilingual Community Interpretation Services)
Making available multilingual information on our website aggregated from different credible sources https://www.mcislanguages.com/covid-19-response/
Offering free immediate telephone interpretation to small organizations supporting Limited English Speakers. We have created a COVID-19 phone interpretation line. When a Limited English Speaker calls in to an agency and the person who is reached does not speak the language, they can then place the person on hold and call into our toll-free phone interpretation line. It is a very simple application process. Once the application is approved (normally within 24 hours), access for your agency is also very simple. Please request the service here,- Free Interpretation Registration Form COVID-19.
INFORMATION FOR PEOPLE WITH DISABILITIES
CNIB The Virtual Vision Mate program gives volunteers an opportunity to engage in friendly conversations with our participants. You can schedule your chats on a set day and time every week, or you can schedule week-to-week, whatever works for both of you. We've also heard from members of our community about the difficulties they're facing with getting groceries and prescriptions. If you're willing to help with picking up and dropping off groceries, we'd love to hear from you.
For just one hour a week, you can change the life of someone with sight loss. To apply to become a Virtual Vision Mate or assist with errands, please fill out the application form. If you have any issues with the application form, please call us at 1-800-563-2642.
*Please note: Due to the volume of requests, it may take a couple of days for the CNIB team to respond.
Participants can also sign up to be connected with a Virtual Vision Mate by filling out the online application form or by calling 1-800-563-2642.
CNIB Foundation has expanded its free virtual program offerings (e.g. career support, tech training, book clubs, youth groups) for Canadians impacted by blindness. Click here to view the full list of workshops: https://cnib.ca/en/event?field_event_type_target_id=All&field_location_locality=&field_region_target_id=All&region=on_north
MARCH OF DIMES is holding Warehouse and other social events via Zoom If you are interested in attending any of the event and for more information, please contact us at: thewarehouse@marchofdimes.ca or 807-345-6595 ext.130
Thunder Bay Family Network tbfn.ca resources, advocacy and more
Ontario Autism Coalition https://ontarioautismcoalition.com/ formed in response to Ford government impact on autistic people and their families in Ontario, website also includes Covid-19 autism supports and resources and a Virtual Forum on Issues Affecting People with Disabilities During Covid-19 Pandemic
COMMUNICATION
TELEPHONE: Some phone providers will be automatically waiving long distance charges for mobile and home phone customers for calls to anywhere in Canada. Check with your phone and/or internet provider for more details.
Fido / Rogers are waiving all pay-per-use roaming fees in available destinations for postpaid customers travelling outside of Canada.
TbayTel – In support of customers who may be experiencing financial challenges due to COVID-19, Tbaytel will be implementing more flexible payment and service options until May 15, 2020. If you have any other concerns about managing your changing needs as a result of COVID-19, please contact Customer Care at 807-623-4400 or 1-800-264-9501.
Interpretation – see MCIS above
INTERNET: Some internet providers are also offering free data at this time.
Many streaming services such as CBC GEM, Netflix, etc are also offering free services.
LEGAL MATTERS
Here is a great resource: https://stepstojustice.ca/covid-19
Landlord Tenant Matters
On March 19, 2020, the provincial government announced that they have applied for a court order to suspend the enforcement of eviction orders. In the meantime, the Landlord and Tenant Board should not issue any new eviction orders until further notice, and Sheriff's offices have been asked to postpone any enforcement of eviction orders scheduled for this week.
Also, all in-person Landlord and Tenant Board hearings are postponed until April 9th and will be rescheduled at a later date. Options such as written and telephone hearings will be considered where practical.
Tribunals and Courts
COVID-19: Updates on the law and legal services (updated July 11, 2020)
CLEO has updated information about the courts during the COVID-19 situation.
Criminal Law:
Family Law:
Provincial Offences:
Please visit COVID-19: Updates on the law and legal services on Steps to Justice for information on other areas of the law including employment law, housing law, and income assistance.
Aussi disponible en français sur Justice pas-à-pas.
IDENTIFICATION
The Ministry of Transportation and Ministry of Health, in cooperation with the Ministry of Government and Consumer Services and ServiceOntario, is extending the validity period of driving products, services and health cards.
These new regulations include extensions for driver licences, licence plate validation, Ontario Photo Cards, and Commercial Vehicle Operator Registration certificates, among others.
Expiring and expired health cards will continue to provide access to health services.
CITY SERVICES
All non-essential City services are closed to the public as of March 25, 2020. www.thunderbay.ca/coronavirus
FRAUD, FALSE AND MISLEADING CLAIMS
PROTECT YOURSELF and BEWARE OF SCAMS – Some people will try to take advantage of the current pandemic by asking for your money or your trust. Numerous people fall victims to scammers claiming to be Government Officials (like Revenue Canada), police or non-existent charities. NEVER give out your Social Insurance Number or Credit Card numbers, or send cash or e-transfer to an unconfirmed source. Scams to watch for:
Spoofed government, healthcare or research information
Unsolicited calls, emails and texts giving medical advice or requesting urgent action or payment:
If you didn't initiate contact, you don't know who you're communicating to
Never respond or click on suspicious links and attachments
Never give out your personal or financial details
Unauthorized or fraudulent charities requesting money for victims, products or research
Don't be pressured into making a donation
High-priced or low-quality products purchased in bulk by consumers and resold for profit
These items may be expired and/or dangerous to your health
Questionable offers, such as: miracle cures, herbal remedies, vaccinations, faster testing
Fake and deceptive online ads, including: cleaning products, hand sanitizers, other items in high demand
Beware of online claims to determine whether or not you have COVID 19 – there is only one sure way to know and that is a medical test from a registered health care provider. There are currently NO approved treatments. Please see the guide to symptoms at the end of this document. And please note:
Canadian Government has NOT approved any product to prevent, treat or cure COVID-19. Selling unauthorized health products or making false or misleading claims to prevent, treat or cure COVID-19 is illegal in Canada. The Government is taking this matter very seriously and they are taking action to stop this activity.
Canadian Government has also NOT approved any disinfectant products with claims specific to COVID-19. However, authorized disinfectant products can make a claim of broad spectrum of activity against viruses if they meet specific evidence standards. They are working with companies and they will publish a list of disinfectant products that can make this claim to help Canadians make effective choices.
The Government encourages anyone who has information regarding potential non-compliant sale or advertising of any health product claiming to treat, prevent or cure COVID-19, to report it using our online complaint form.
USEFUL LINKS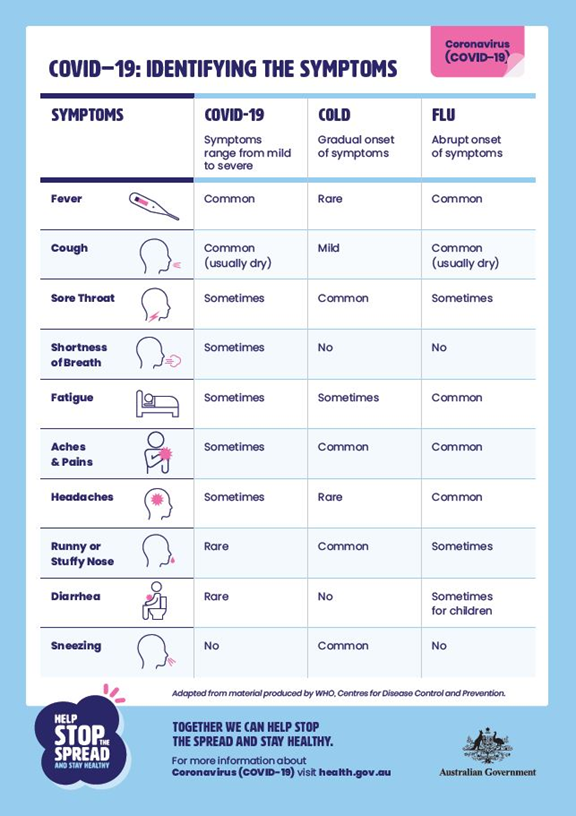 COVID-19 Pandemic Response – Income Support and Benefits for People with Precarious Immigration Status (OCASI, April 2) https://ocasi.org/income-support-webinar-%E2%80%93-pandemic-response
Please visit COVID-19: Updates on the law and legal services on Steps to Justice to see all questions in other areas of the law including housing, family law, and income assistance. Aussi disponible en français sur Justice pas-à-pas.
Learning Centre, Resources on Gender-Based Violence and the Covid-19 Pandemic
Thunder Bay Drug Strategy and Crime Prevention Council have cooperated to create a directory of local, regional and national resources for service providers: https://thunderbay.cmha.ca/news/covid-19-resource-directory-for-service-providers/
Thunder Bay Public Library is posting a collection of community resources and activities: http://www.tbpl.ca/online-activities