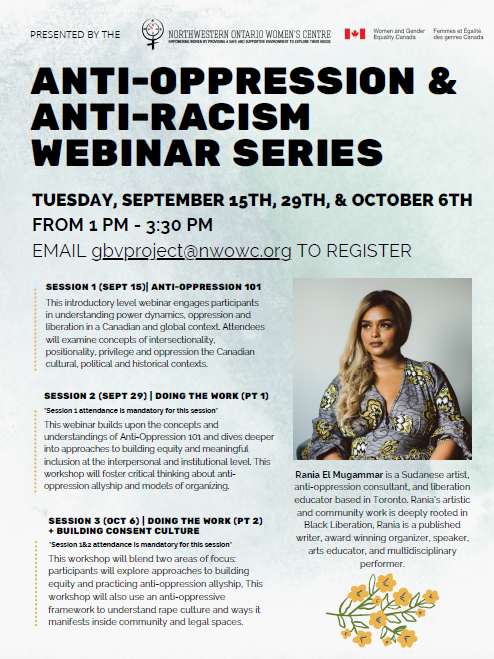 Tuesday, September 15, 29, and October 6
1 pm to 3:30 pm
Email [email protected] to register
Rania El Mugammar is a Sudanese artist, anti-oppresssion consultant and liberation educator based in Toronto. Rainia's artistic and community work is deeply rooted in Black Liberation. Rania is a published writer, award winning organizer, speaker, arts educator and multidisciplinary performer.
SESSION 1 (SEPT 15)| ANTI-OPPRESSION 101
This introductory level webinar engages participants
in understanding power dynamics, oppression and
liberation in a Canadian and global context. Attendees
will examine concepts of intersectionality,
positionality, privilege and oppression the Canadian
cultural, political and historical contexts.
SESSION 2 (SEPT 29) | DOING THE WORK (PT 1) Session 1 attendance is mandatory for this session
This webinar builds upon the concepts and
understandings of Anti-Oppression 101 and dives deeper
into approaches to building equity and meaningful
inclusion at the interpersonal and institutional level. This
workshop will foster critical thinking about antioppression
allyship and models of organizing.
SESSION 3 (OCT 6) | DOING THE WORK (PT 2) & BUILDING CONSENT CULTURE
Session 1&2 attendance is mandatory for this session
This workshop will blend two areas of focus:
participants will explore approaches to building
equity and practicing anti-oppression allyship, This
workshop will also use an anti-oppressive
framework to understand rape culture and ways it
manifests inside community and legal spaces.
EMAIL [email protected] TO REGISTER