https://www.cbc.ca/news/canada/thunder-bay/thunder-bay-international-womens-day-1.5482862?fbclid=IwAR0ANACWIfnyNNe7UI9HZYFk4P4XAToNmHHUV1L0W17XzcZc2zgustDhNXc
Northwestern Ontario Women's Centre raised the flag to open a week of community activities in honour of International Women's Day 2020.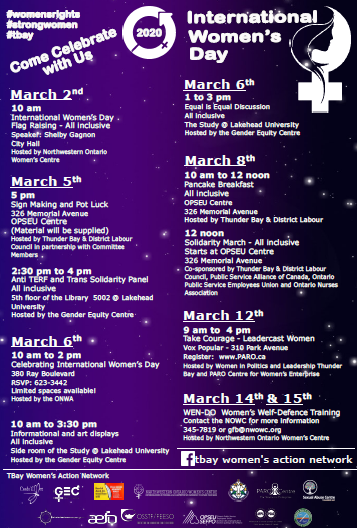 Tonight, March 5, at 5 pm, OPSEU is hosting sign-making potluck event in advance of the Women's March on IWD March 8. Also taking place this afternoon, Lakehead University Gender Equity Centre hosts a Trans-Solidarity Panel in the library at 2:30.
On March 6 from 10 am to 2 pm, ONWA will host an IWD celebration. From 10 am to 3:30, LU Gender Equity Centre presents an art and info display in the Study. This presentation will also include an Equal Is Equal discussion starting at 1 pm.
On March 8, OPSEU hosts a pancake breakfast from 10 am to noon, followed by a Solidarity March. The march starts from the OPSEU Centre at 326 Memorial Ave.
The events and activities above are all-inclusive, everyone welcome.
On March 12, PARO and Women in Politics and Leadership Thunder Bay present "Take Courage — Leadercast Women" at Vox Popular from 9 am to 4 pm.
Northwestern Ontario Women's Centre will offer a two-day Wen-Do Women's Self-Defense training session on March 14 and 15.The Women's Centre and Thunder Bay Public Library are also hosting a Self-Defense demo and vision-board activity for tweens, at County Park Library on March 18, 6 pm. NOWC presents a visual display about our services and programs at Waverley Library from March 2 to 13.