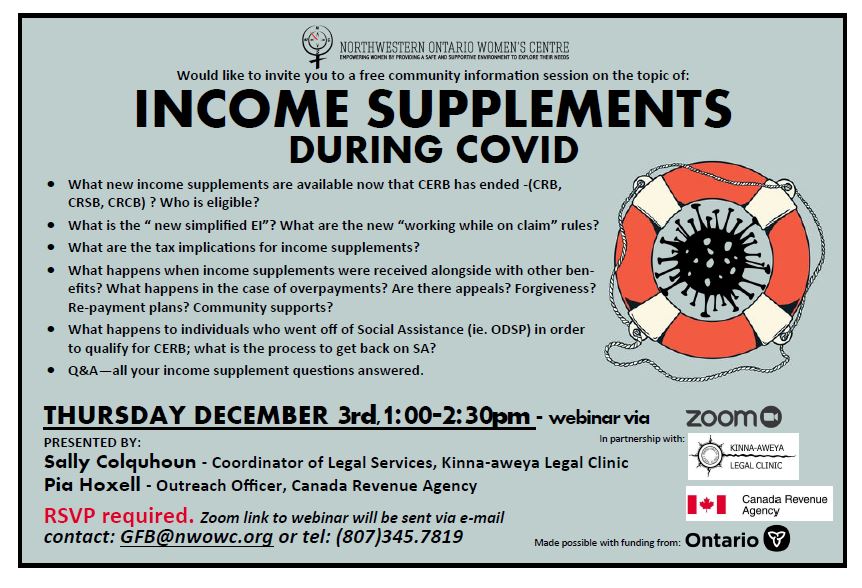 Session is open to all –  Registration required.
What new income supplements are available now that CERB has ended -(CRB, CRSB, CRCB) ? Who is eligible?
What is the " new simplified EI"? What are the new "working while on claim" rules?
What are the tax implications for income supplements?
What happens when income supplements were received alongside with other benefits? What happens in the case of overpayments? Are there appeals? Forgiveness? Re-payment plans? Community supports?
What happens to individuals who went off of Social Assistance (ie. ODSP) in order to qualify for CERB; what is the process to get back on SA?
Q&A—all your income supplement questions answered.
THURSDAY DECEMBER 3rd,1:00-2:30pm – webinar via ZOOM
PRESENTED BY:
Sally Colquhoun – Coordinator of Legal Services, Kinna-aweya Legal Clinic
Pia Hoxell – Outreach Officer, Canada Revenue Agency
RSVP required. Zoom link to webinar will be sent via e-mail
contact: [email protected] or tel: (807)345.7819