The Northwestern Ontario Women's Centre invites you to join our upcoming legal information clinic on July 8th, 2021 from 1:00 pm till 3:00 pm.

The topic of the legal clinic: Coercive Control & Parental Alienation.
Place: Online zoom session!
Panellist: Dr. Frances E. Chapman (Professor of Law) & Lawyer Lauren M. Conti (Family Law & Child Protection)

What are we going to look at?

• What are coercive control and parental alienation?

• How are they presented in the family courts?

• How does it impact the victim parent and the children in DV/IPV cases?


We are looking forward to having a widespread discussion and learning so much!

Please email [email protected] for the Zoom link. Also, if you need assistance with the zoom setup – the women's centre is happy to help and answer any questions.

Please find the attached poster. Looking forward to having you all join us on Thursday, July 8th, 2021 at 1:00 pm.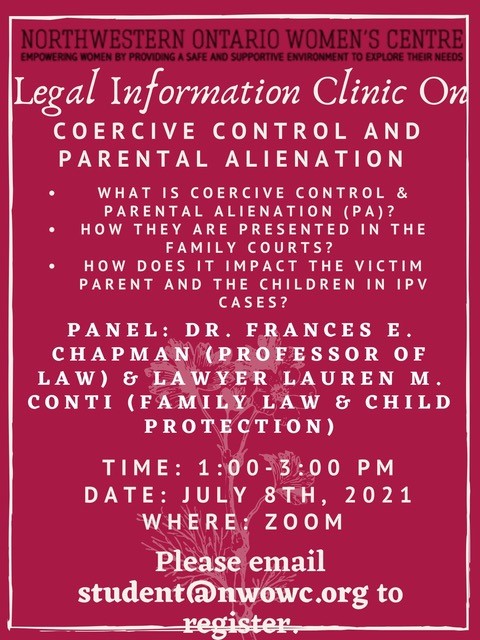 Regards,
Nusrat H Khan.
(she/her)
Legal Information Clinic Coordinator.

73 Cumberland St. N, Suite 101, Thunder Bay, ON P7A 4L8 (807) 345-7802
www.nwowomenscentre.org
~ The Legal Information Clinic Program is funded by Ontario Ministry of Children, Community and Social Services – Investing in Women's Futures Program ~