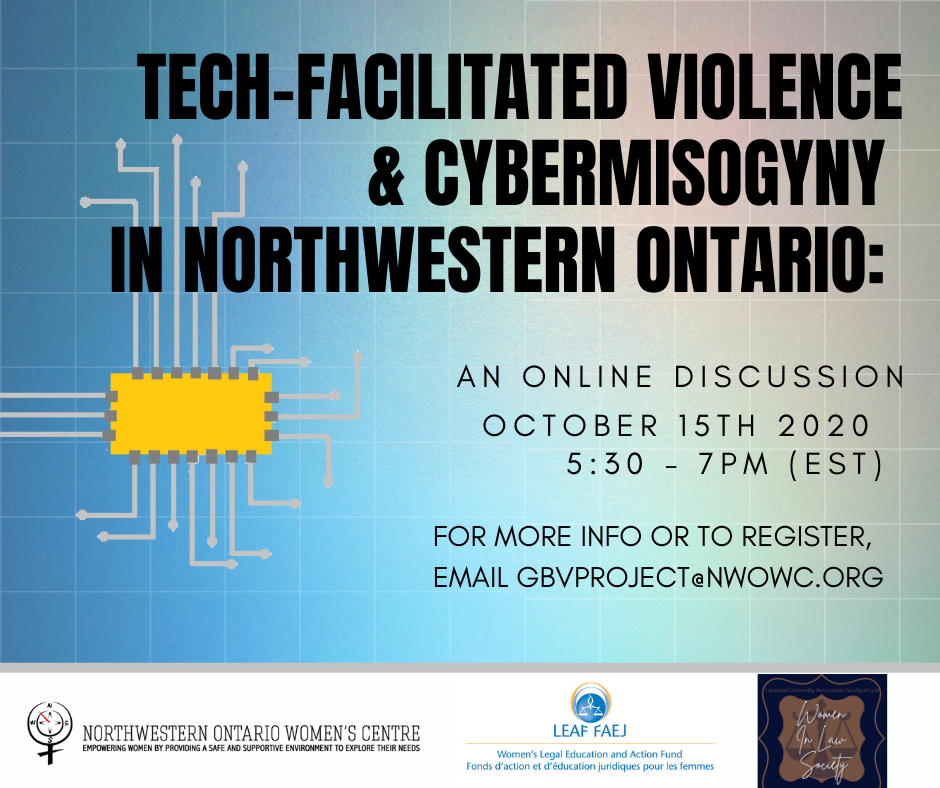 The Northwestern Ontario Women's Centre, in collaboration with LEAF Thunder Bay and the Bora Laskin Women in Law Society, are hosting Tech-Facilitated Violence & Cybermisogyny in NWO – an online discussion exploring the impacts of tech-facilitated violence and cybermisogyny in Thunder Bay and NWO region. This event will be virtually hosted by NWOC on Thursday, October 15th from 5:30-7pm. Our discussion will explore how the challenges relating to TFV and the law, barriers that advocates face in Thunder Bay and region when supporting women experiencing TFV, and the impacts of cybermisogyny and TFV against women and girls.
Moderator: Sabrina Bene, LEAF Thunder Bay
Panelists:
Suzie Dunn – PhD candidate at UOttawa
Cindy Paypompee – Beendigen and Co-Chair of the TBay Human Trafficking Coalition
DC Carl Hagstrom, TBPs Criminal Investigations Branch – Cyber Crime
Kristal Carlson, Thunder Bay Counselling and Co-Chair of the TBay Human Trafficking Coalition
Follow this link to register: https://www.eventbrite.ca/e/tech-facilitated-violence-cybermisogyny-in-nwo-an-online-discussion-tickets-120214433607
If you have any questions or difficulty with registration, please contact Steph at 935-8043 or [email protected].