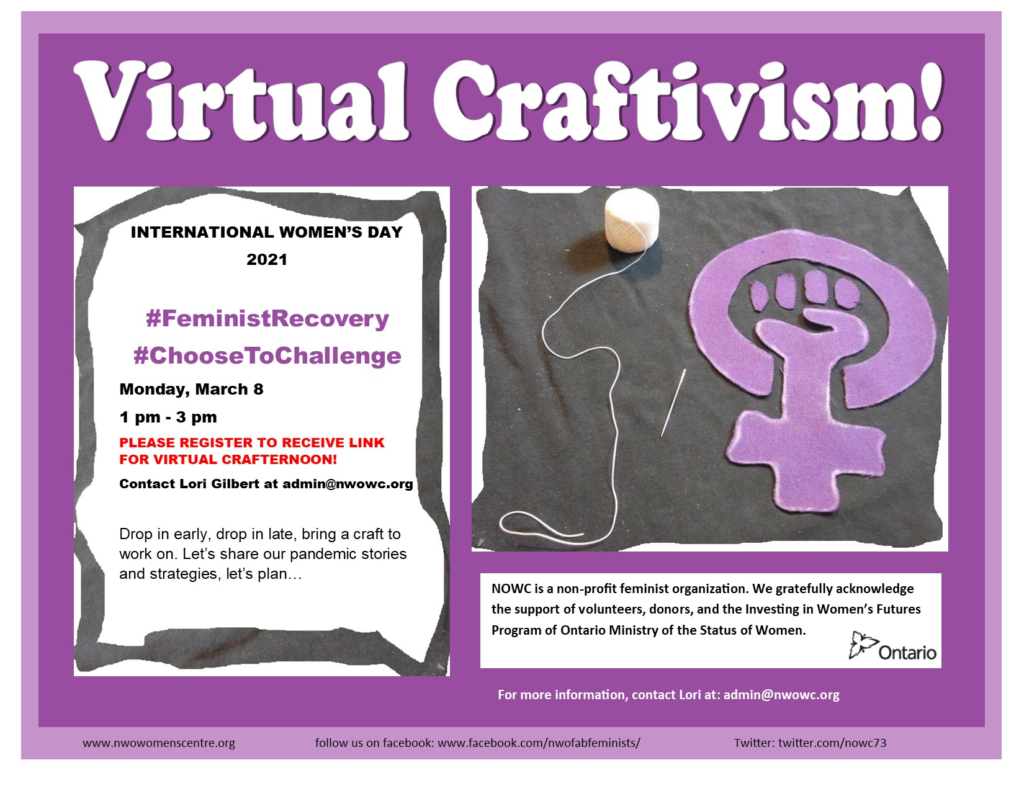 Every year, the Women's Centre raises the flag for International Women's Day at City Hall. In previous years we've enjoyed numerous inspiring speakers at the flag-raising, and connected with our members and with other women's organizations in our community throughout the week of IWD, while raising awareness of women's accomplishments and ongoing struggles locally and globally. Due to the pandemic and lockdown, we won't be able to gather in person this year. I hope you will have a chance to view the flag between March 8 and 12 if you are near City Hall.
The poster above announces a Virtual Feminist Crafternoon to be held on Monday, March 8 between 1 and 3 pm. In order to ensure a safe space for all women who want to participate, registration is required. All you have to do to register, is contact me by email and I will send you the link. You can drop in at your convenience during 1 and 3 pm on March 8. I look forward to meeting with you, and seeing your projects, hearing your pandemic stories and strategies, what you #ChooseToChallenge and how you're challenging it, and your plans for a #FeministRecovery!
resources below:
From International Women's Day website: International Women's Day Theme: #ChooseToChallenge https://www.internationalwomensday.com/theme
From Status of Women Canada:
2021 International Women's Day theme: #FeministRecovery
March 8 is International Women's Day, a time to celebrate the contributions of women and girls everywhere; to recognize women who inspire us all; and to renew discussion about the importance of gender equality in Canada and around the world.
This International Women's Day, we invite you to take a pledge to advance gender equality and support an inclusive recovery from the COVID-19 pandemic by using #FeministRecovery on your social media accounts. An inclusive recovery offers the opportunity to advance gender equality and provide economic and social stability for all Canadians.
Impacts of COVID-19 on women
It has identified fundamental gaps in our society and disproportionately impacted those who were already marginalized, vulnerable or struggling. On every front, the COVID-19 pandemic has eroded hard-fought gains to gender equality. From layoffs to lack of child care to increased unpaid work to the rise of domestic violence, women have been most deeply impacted by the health and economic crisis.
The Government of Canada is working to create an Action Plan for Women in the Economy to help women get back into the workforce and ensure a feminist, intersectional response to this pandemic and recovery. This Plan will be led by a diverse task force of experts and guide a whole-of-government approach.
Ways to get involved
There are new opportunities and responsibilities to reimagine the role of women, and rebuild a brighter more inclusive future for everyone.
This International Women's Day:
Learn more about Canada's Response and Recovery Summit taking place on March 8 and 9, 2021
Pledge to advance gender equality and support an inclusive recovery from COVID-19 in your community using the hashtag #FeministRecovery
Start a conversation with our social media shareables on your networks and channels using the hashtag #FeministRecovery
Visit the Women of Impact in Canada Gallery to learn about the inspiring achievements of the former inductees
From UN Women: https://www.unwomen.org/en/news/stories/2020/11/announcer-international-womens-day-2021
Lori Gilbert, Office Manager
Northwestern Ontario Women's Centre
807-935-8043 or [email protected]