Indigenous History Month is an important time to honour the power and determination of Indigenous Peoples. Revisit the Calls for Justice in Reclaiming Power and Place: The Final Report of the National Inquiry into Missing and Murdered Indigenous Women and Girls; Weaving Miskotahâ, the Métis Nation's Implementation Framework for the National Inquiry Final Report's Calls for Justice by Les Femmes Michif Otipemisiwak; MMIWG2SLGBTQQIA+ National Action Plan – Final Report (2021) and Progress Report (2022); and the TRC's Principles of Reconciliation and Calls to Action. And support and celebrate the contributions and innovations of Indigenous women, Two-Spirit People, and Indigenous-led initiatives in our community and beyond!
Here are just a few:
June 21st, the summer solstice and longest day of the year, marks Indigenous Peoples Day.
Check out the City of Thunder Bay events and join in the local celebrations: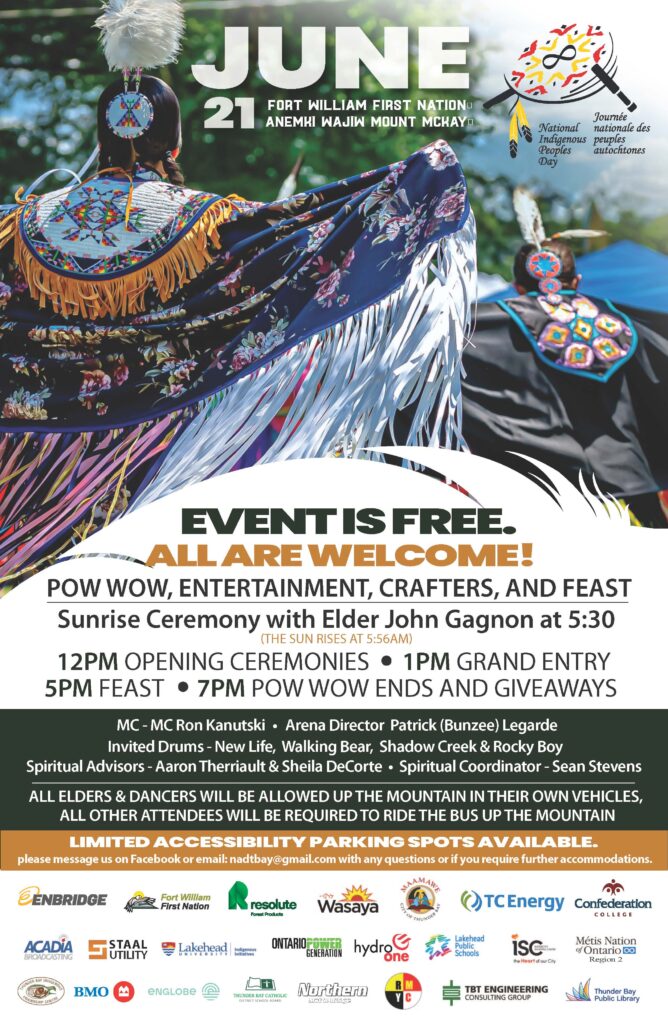 Also check out Missing Matoaka: The true story of Pocahontas. You can play the alternative audio track while watching a common movie about Pocahantas on mute.
Explore films by Michelle Derosier, a local filmmaker and activist from Migisi Sahgaigan First Nation in Treaty 3 Territory in Northwestern Ontario. And check out the NFB's selection of animated films made by Inuit, First Nations and Métis filmmakers and films that share Indigenous knowledges, practices, and traditions.
Become familiar with the colonial and Indigenous laws that govern the lives of Canada's First Nations by exploring Home on Native Land (by RAVEN).
Watch Land Back: Indigenous Perspectives | The Agenda interview with Pamela Palmater and Riley Yesno (March 28, 2022), read Land Back: A Yellowhead Institute Red Paper (2019), and explore Land Reparations & Indigenous Solidarity Toolkit compiled by US-based Resource Generation Land Reparations Group (2018)
Buffy is a five-part CBC podcast series about Buffy Sainte-Marie by Mohawk and Tuscarora writer Falen Johnson that explores how Buffy's life and legacy is essential to understanding Indigenous resilience. See
also The lessons Buffy Sainte-Marie taught me.
Sci-fi fan? Listen to Métis in Space | otipêyimsiw-iskwêwak kihci-kîsikohk (Indigenous feminist science fiction podcast with Molly Swain & Chelsea Vowel)
Learn more about status of the June 2019 Calls for Justice for MMIWG2S. According to CBC's MMIWG project, Mother. Sister. Daughter., after 4 years, only 2 of the national inquiry's calls for justice are complete. More than half aren't even started.
And explore the Yellowhead Institute's Indigenous Solidarity Day: Yellowhead Resources for Renewing Relationships, Zaagi'diwin Inakinogewin | Love Law: A Policy Note For Protecting TwoSpirit, Non-Binary & Trans Indigenous Peoples (August 2022), and their latest Special Report (May 2023): Bad Forecast: The Illusion of Indigenous Inclusion and Representation in Climate Adaptation Plans in Canada
See also: Decentering Whiteness in Reconciliation: Challenges & Opportunities for Online Learning (4RS) and Montreal Indigenous Community NETWORK's Toolkit for Allies in Indigenous Struggles and The Decolonial Toolkit – An Educational Journey