February means that it's time to kick off our local box fundraising season with our LOCALLY MADE GOOD VALENTINE BOX!
This Valentine's Day, consider purchasing a Locally Made V-Box in support of the TBAY Good Food Box program! Each Box is packed with locally made goodies from our talented local makers, producers, and seed savers! Boxes are $60 and support community food security while sharing the local love all at the same time! Treat yourself, gift it to your valentine, or share it with your friends!
This year's Valentine's Box features:
Coffee from Rose N' Crantz
Chocolate from the Chocolate cow
Cup from Crystal Sohlman Pottery
Cold pressed soap from Shades of Lavender
Lip Balm from Three Trees
And seeds from Superior Seed Producers (in Punny Valentine packets)
VALENTINE BOXES ARE $60 (Price includes a $20 charitable donation to the Good Food Box Program). Limited Quantity Available.
To reserve a box, contact the GFB by phone (807) 345-7819 or by email at: [email protected]
Payment and pickup details will be provided when you make your reservation.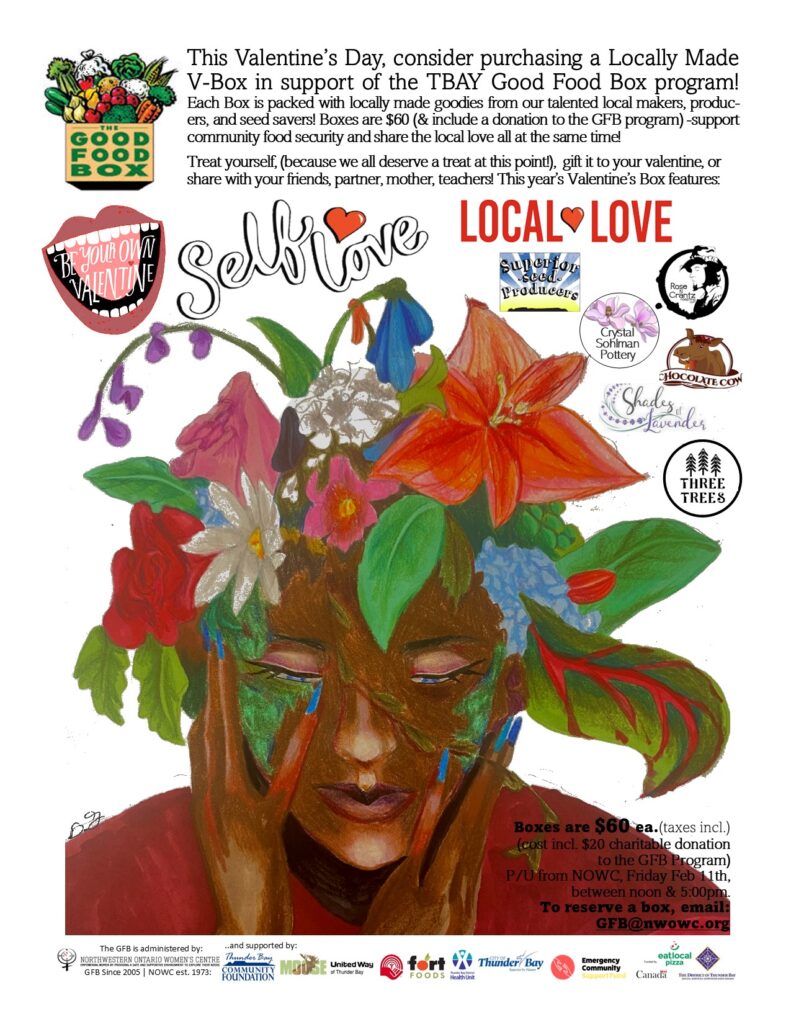 Thank You!
Our 2021 local box fundraiser was a great success, raising $12,220 in donations for the Thunder Bay GFB program AND supporting our local farmers, producers and makers through another tough year. The Good Food Box program spent over $40,000 on locally grown and made goods ($23,626 was spent sourcing the local box alone!) Thank you for supporting the GFB and community-powered food security, and thank you for supporting all the amazing local growers and makers in the region!