The Montreal Massacre: December 6, 1989
from Rise Up! Feminist Archive:
On the evening of December 6, 1989, a man with a rifle entered a classroom in L'Ecole Polytechnique in Montreal, separated the women and men, then claimed he was "fighting feminism", called the women "a bunch of feminists" and shot nine women, killing six of them. He moved on through the college shooting more women. During his 20-minute rampage, he murdered 14 women and injured 10 other women and four men before taking his own life. His suicide note blamed feminists for ruining his life and included a list of 19 prominent Quebec feminists who he also planned to target.
What became known as The Montreal Massacre occurred as feminists were winning victories in the fight for control of their bodies and against violence. This included the Canadian Supreme Court's landmark decision in 1988 declaring that the Criminal Code provision making abortion criminal was unconstitutional, as it violated a woman's right to security of person under the Canadian Charter of Rights and Freedoms. There was also growing activism across the county demanding that gender-based harassment and violence in all its forms, including partner violence, sexual assault, and workplace harassment and violence, be recognized and stopped.
In Thunder Bay, the Northern Woman's Centre (now known as the Northwestern Ontario Women's Centre) was holding its Annual General Meeting on the evening of December 6, 1989. The women in attendance would not find out about the massacre until hearing about it on the radio afterwards. To learn more about the local response by feminists and the immediate backlash by anti-feminists, as captured by writer and organizer, Joan Baril, please read "The Centre of the Backlash" here or below.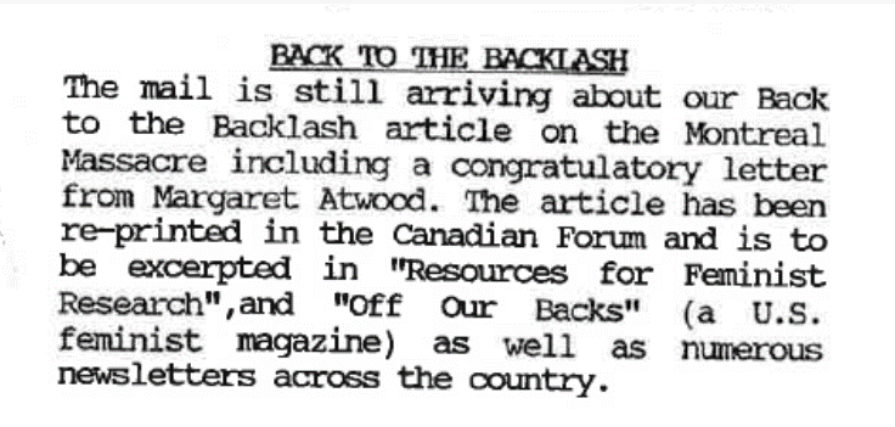 Under pressure from feminist organizations, the Government of Canada recognized December 6th as the National Day of Remembrance and Action on Violence Against Women in 1991. More than thirty years after the Montreal Massacre, December 6th continues to commemorate the 14 women killed in 1989 in the Montreal Massacre at L'Ecole Polytechnique (Geneviève Bergeron, Hélène Colgan, Nathalie Croteau, Barbara Daigneault, Anne-Marie Edward, Maud Haviernick, Maryse Laganière, Maryse Leclair, Anne-Marie Lemay, Sonia Pelletier, Michèle Richard, Annie St-Arneault, Annie Turcotte, Barbara Klucznik-Widajewicz), and all the other women, including missing and murdered Indigenous women and girls, who have been taken by femicide to date.
December 6th, 7 pm (Thunder Bay): National Day of Remembrance and Action on Violence Against Women Memorial Vigil. OPSEU Membership Centre, 326 Memorial Avenue. Everyone welcome. Light refreshments. Donations for Women's Shelters are also welcomed.
To learn more about the Montreal Massacre, feminist responses and anti-feminist backlash at that time, explore Rise Up! Feminist Archive.