November 9, 2021, 6 – 8:30 pm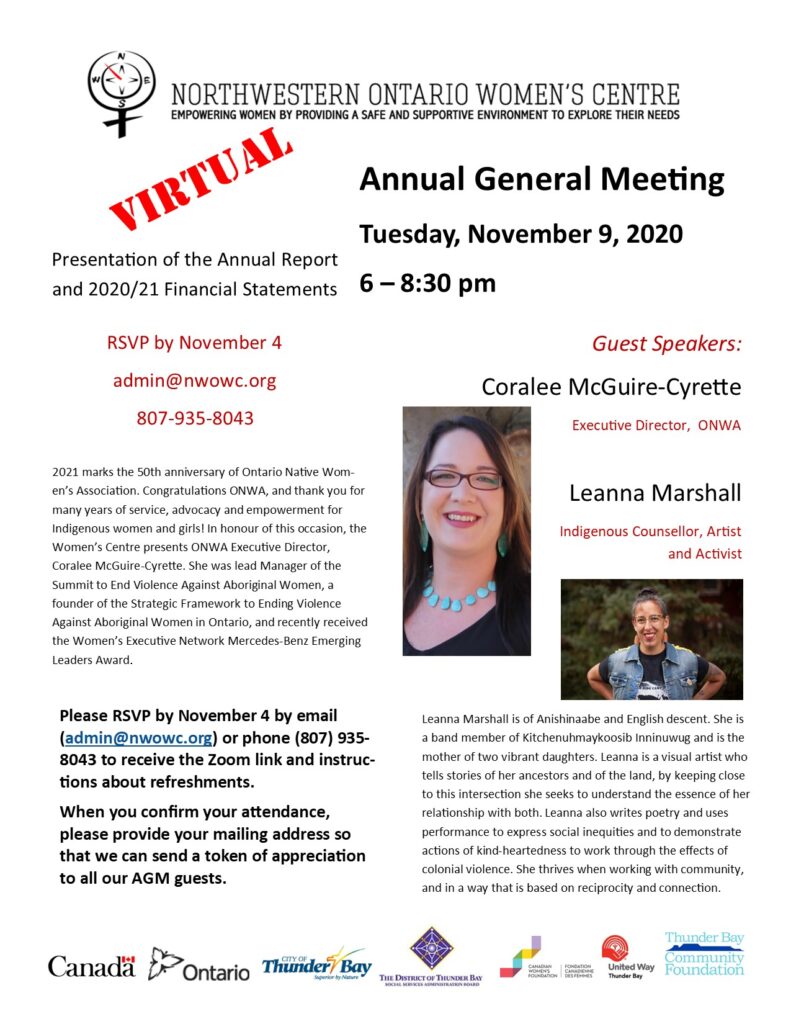 Presentation of the Annual Report and 2020/21 Financial Statements
RSVP by November 4
807-935-8043
Guest Speakers:
Coralee McGuire-Cyrette
Executive Director, ONWA
2021 marks the 50th anniversary of Ontario Native Women's Association. Congratulations ONWA, and thank you for many years of service, advocacy and empowerment for Indigenous women and girls! In honour of this occasion, the Women's Centre presents ONWA Executive Director, Coralee McGuire-Cyrette. She was lead Manager of the Summit to End Violence Against Aboriginal Women, a founder of the Strategic Framework to Ending Violence Against Aboriginal Women in Ontario, and recently received the Women's Executive Network Mercedes-Benz Emerging Leaders Award.
Leanna Marshall
Indigenous Counsellor, Artist and Activist
Leanna Marshall is of Anishinaabe and English descent. She is a band member of Kitchenuhmaykoosib Inninuwug and is the mother of two vibrant daughters. Leanna is a visual artist who tells stories of her ancestors and of the land, by keeping close to this intersection she seeks to understand the essence of her relationship with both. Leanna also writes poetry and uses performance to express social inequities and to demonstrate actions of kind-heartedness to work through the effects of colonial violence. She thrives when working with community, and in a way that is based on reciprocity and connection.
Please RSVP by November 4 by email ([email protected]) or phone (807) 935-8043 to receive the Zoom link and instructions about refreshments.
When you confirm your attendance, please provide your mailing address so that we can send a token of appreciation to all our AGM guests.