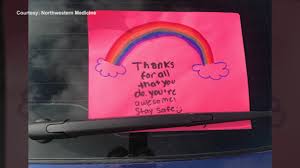 Rainbows: mystical bridges, signs of hope, symbols of unity and luck, magic and spiritual enlightenment. Spring and Summer 2020 saw the rainbow out in force, both as the emblem of LGBTQ2S+ Pride and as a message of gratitude and appreciation for essential front-line workers. While some commentators rush in to assure us that rainbows "aren't just for girly-girls", others of us embrace the ultra-girly Lisa Frank glitter in all its glory.
Before getting to the craftivism, I direct your attention to some relevant links, and provide a colouring activity for your enjoyment!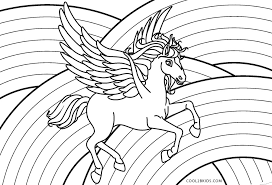 From Wikipedia: https://en.wikipedia.org/wiki/Rainbows_in_culture
https://en.wikipedia.org/wiki/Rainbow_flag
The rainbow flag was popularized as a symbol of the gay community by San Francisco artist Gilbert Baker in 1978. The different colors are often associated with "diversity" in the gay community (but actually have literal meanings). The flag is used predominantly at gay pride events and in gay villages worldwide in various forms including banners, clothing and jewelry. Since the 1990s, its symbolism has been transferred to represent the extended "LGBT" (lesbian, gay, bisexual and transgender) community. In 1994, for the 25th anniversary of the Stonewall riots in New York city, a mile-long rainbow flag was created by Baker which he later cut into sections that were distributed around the world.[16]
The flag was originally created with eight colors, but pink and turquoise were removed for production purposes, and since 1979 it has consisted of six colored stripes. It is most commonly flown with the red stripe on top, as the colors appear in a natural rainbow.[17] Aside from the obvious symbolism of a mixed LGBT community, the colors were determined to symbolize:
life (red),
healing (orange),
sunlight (yellow),
nature (green),
harmony/peace (blue),
spirit (purple/violet).[18]
The removed colors stood for sexuality (pink) and art/magic (turquoise).[18]
During the 1980s, a black stripe representing AIDS victims was added to the bottom of a rainbow flag as a seventh color and named the "Victory Over AIDS" flag.[19] At various times other colors have been introduced to modify the flag design by Gilbert Baker, including black-and-brown for people of color in 2017,[20] and white-pink-blue for transgender and queer people in 2019.[21]
From Thunder Bay News Watch: https://www.tbnewswatch.com/local-news/pride-lives-here-campaign-a-response-to-hate-chair-2398787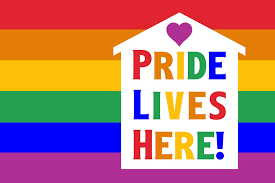 Shakir Rahim, Pride Toronto's co-chair, says he's aware that LGBTQ organizations in northwestern Ontario face challenges. Pride Toronto solicited supporters to sign Borderland's petition and has offered to support the region's organizations. "We really see ourselves as allies in this battle, and I definitely think it's a new chapter or part of the new landscape of what Prides are facing," Rahim says. "It's about building bridges and building understanding."
Thunder Pride chair Jason Veltri says that, even as Thunder Bay is preparing to host the national Fierté Canada Pride conference in early 2021, a lack of acceptance remains. A drag performer was accosted in public last year, and online threats followed city council's 2019 decision to pay for a third of a $28,000 rainbow-painted crosswalk. "You look at what happened in Emo — the fact is there's still homophobic and transphobic behavior that still runs rampant in our communities," says Veltri. "As activists, it's our responsibility to fight back and provide these welcoming and inclusive communities you can move to, set up, and have a family in."
From The Globe and Mail: https://www.theglobeandmail.com/canada/article-thank-you-and-stay-safe-readers-tributes-to-front-line-workers-in/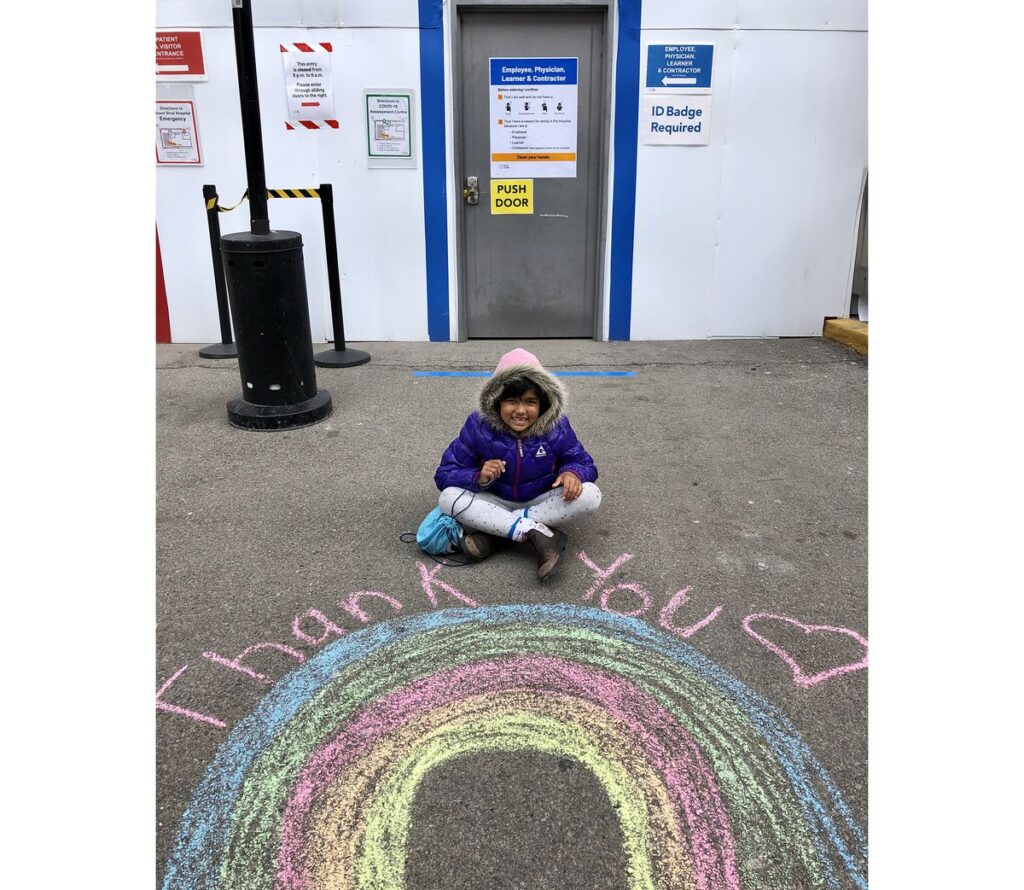 From Whats-your-sign.com: https://www.whats-your-sign.com/symbolic-meaning-of-rainbows.html#:~:text=Sighting%20a%20rainbow%20has%20long,are%20told%20over%20the%20ages.
At its most basic reduction, the rainbow is an amalgamation of light – a perfect harmonic combination which produces a symbol of supernatural beauty, promise and enlightenment.
Symbolic Meanings of Rainbows – a Quick List
Life
Hope
Divinity
Promise
Creation
Initiation
Potential
Provision
Harmony
Expansion
Ascension
Spirituality
Connection
Transformation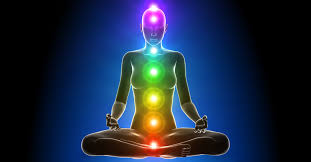 In the end, the simplest interpretation is this: The best message and meaning of rainbows is assurance and appreciation. Beholding a rainbow is a gift, and when we encounter their beauty, it is the perfect time to be grateful for all the gifts in our lives.
And now for some craftivism… and my rainbow story
I identify as a cis woman, heterosexual with some bisexual leanings, living a fairly standard middle-class white lifestyle with a social conscience and feminist ideals. I've always been vocally supportive of gay rights even when my childhood friends disapproved. Raising a daughter with autism and with still-developing and changing sexual and gender identity (but definitely not heteronormative!), has not only accentuated my level of privilege for me, but clarified my responsibility to continue being vocal and visible in my support and appreciation of 2SLGBTQ+ Pride. Our household goes well beyond "acceptance" and is more celebratory of all things queer, and of the neurodivergent, which is a whole other rainbow.
My "Pride Lives Here" sign was stolen off my lawn in early July. I went to the Thunder Pride Facebook page to ask a question: Are they gathering up the signs (now that Pride Month has passed) for re-use next year? There I saw a post that indicated others have had signs not only removed, but in some cases damaged/vandalized. I got angry and decided it was time for some craftivism. Crafting is not always the most appropriate or effective response to injustice, but sometimes it's the perfect fit. I made my own crochet Pride Lives Here sign to affix to the maple tree at the front of my house.
https://www.tvo.org/article/why-a-northern-ontario-group-is-declaring-that-pride-lives-here
If you've had the disturbing experience of a missing sign, your expression of Pride and Solidarity with our LGBTQ2S+ community quietly ERASED, please consider turning your frustration to an act of craftivism (and of course you can call the police and report the hate crime). Here's how I made & installed mine: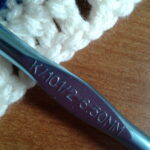 1. I used acrylic yarn in solid colours and a size K hook, which is usually used for bulky yarn, but will make any size yarn build up a fabric faster. I have also used cotton yarn for my various rainbows but have found that they fade in the hot summer sun!
Above: cotton rainbow on left in May. same object in late July
2. Chain what you need for the size of your sign, using purple. You will be working in rows from the bottom up.
3. Chain one, and single or double crochet across. Single crochet gives a stiffer, more solid fabric while double crochet builds up faster but is lacier/more drape-y.
4. Chain one, turn, and work back along the row. Repeat until you have a purple bar about 2 inches wide. My colour sections were between 8 and 10 rows, depending on thickness of the yarn.
5. Tie off, join with blue. Chain 1 and single or double crochet into the same stitch. Continue as for the first purple bar.
6. Carry on with each colour you wish to use. We all know that the spectrum is ROYGBIV (7 colours) but the official "Pride Lives Here" sign uses 6 colours.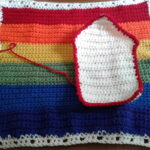 7. To make the house, I crocheted a white square in single crochet. At the last row, I chained three or four after the last stitch, chain 1 and turn, then crocheted back across the row. Again, chain extras, chain 1 and turn to go back. This makes an eave to start the roof of the house.
8. Begin decreasing to form a triangle: crochet first two stitches together. Single crochet along row until there are two stitches remaining. Crochet last two stitches together.
9. Chain one, turn, decrease by crocheting first two stitches together. Single crochet along row, crochet last two stitches together.
10. Carry on until you have 2 or 3 stitches remaining at the peak, and crochet them together. I also make it more pointy by chaining two, and slip stitching back into the same stitch.
11. You can make the roof taller by adding in rows without decreasing; or shorter by adding a decrease/crochet-two-together in the middle of each row or every second row.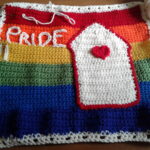 12. I made a small crochet heart applique to put on the house applique. These can be found all over Youtube. I also made a single-crochet border in red with a smaller hook. Doing borders or edging with a smaller hook tidies up your shape.
13. Sew the house onto the rainbow fabric.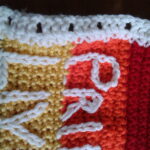 14. Lettering: I used simple chain stitch embroidery.
15. Border and ties: You don't need to create a border, but I felt that it finished the project off nicely and gave it a "craft-y" feel. I double-crocheted around in this pattern: Three double crochet, chain one, skip a stitch, double crochet into the next three, chain one, skip a stitch, double crochet into the next, and so on. I treated corners similarly to granny squares, with a double crochet, chain-two, double crochet into each corner. Ties were made with long chains, reinforced with some single crochet. I then took my hook along and joined the chains around the tree by crocheting into as many chains as possible. This was a smaller hook, by the way. You can also just tie it to a tree, fence, or create a framework to post on your lawn. Hanging in a window is good too. If you're hanging it in a window, you will want to make sure both sides are neat!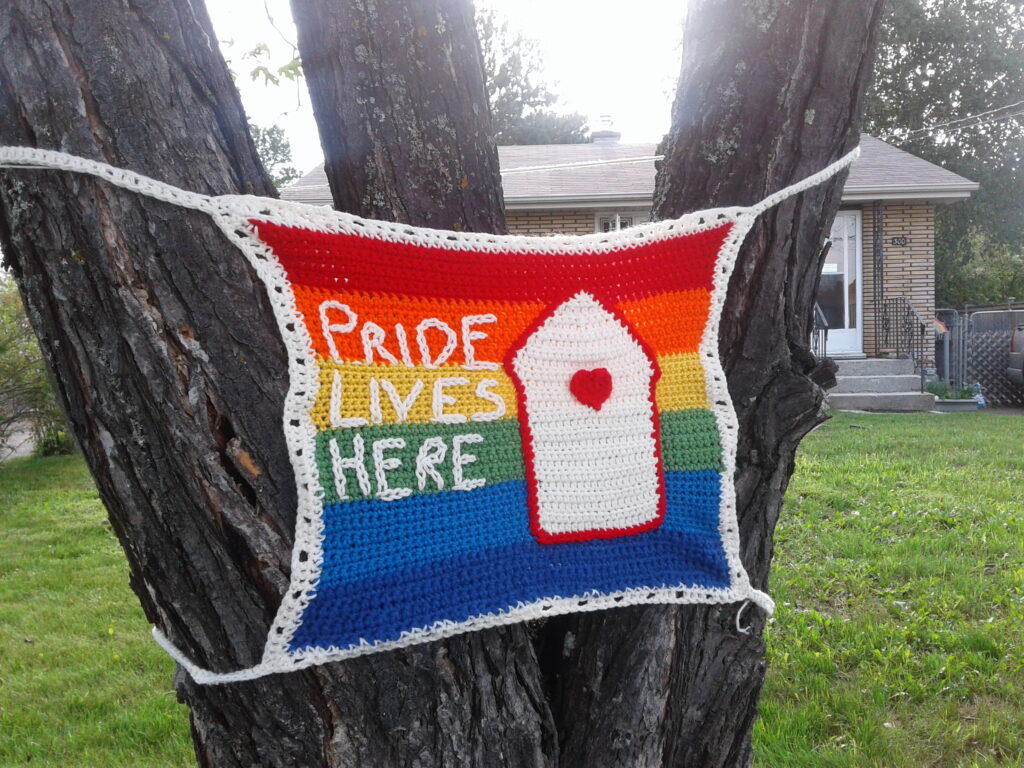 How you can participate in Summer Vibes Craftivism:
Start a conversation about the projects on our Facebook Page https://www.facebook.com/nwowc/
Post a picture of your craft on Facebook or Twitter and tag Northwestern Ontario Women's Centre
Send a picture for me to share, by email ([email protected]), FB message, or the chat feature on our website
Share your skills and ideas for feminist / activist craft projects — send to me for posting on the website and sharing with our members and friends
Do you combine craft with activism? How does your activism inform your crafting, and how do crafts and the craft community influence your involvement with social justice movements? Have you made objects or learned craftivist strategies that you would like to share?
DID YOU KNOW? Girl Guides UK has a Craftivism Badge!