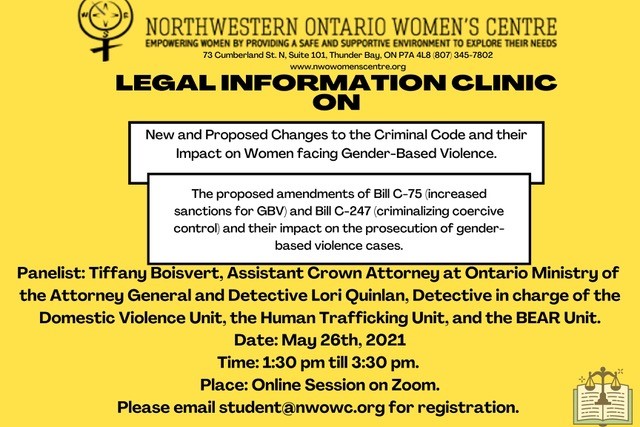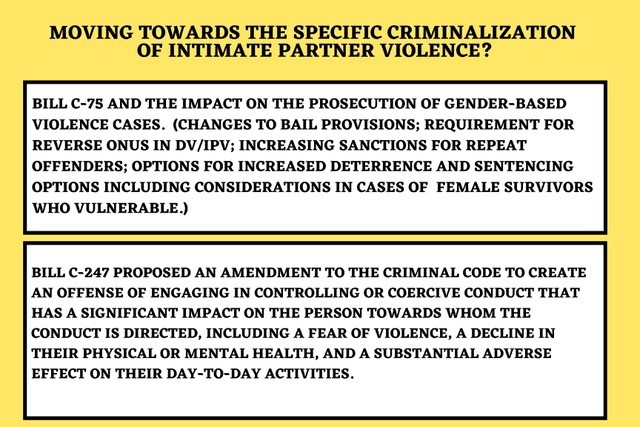 Poster text:
Legal information clinic on:
New and Proposed Changes to the Criminal Code and their Impact on Women facing Gender-Based Violence.
The proposed amendments of Bill C-75 (increased sanctions for GBV) and Bill C-247 (criminalizing coercive control) and their impact on the prosecution of gender-based violence cases.
Panelist: – Tiffany Boisvert, Assistant Crown Attorney at Ontario Ministry of
the Attorney General; – and Detective Lori Quinlan, Detective in charge of the
Domestic Violence Unit, the Human Trafficking Unit, and the BEAR Unit.
Date: May 26th, 2021
Time: 1:30 pm till 3:30 pm.
Place: Online Session on Zoom.
Please email [email protected] for registration.
Moving Towards the Specific Criminalization of Intimate Partner Violence?
Bill C-75 and the impact on the prosecution of gender-based violence cases. (Changes to Bail provisions; requirement for reverse onus in DV/IPV; increasing sanctions for repeat offenders; options for increased deterrence and sentencing options including considerations in cases of female survivors who vulnerable.)
Bill C-247 proposed an amendment to the Criminal Code to create an offense of engaging in controlling or coercive conduct that has a significant impact on the person towards whom the conduct is directed, including a fear of violence, a decline in their physical or mental health, and a substantial adverse effect on their day-to-day activities.
Northwestern Ontario Women's Centre gratefully acknowledges the financial assistance of the Investing in Women's Futures program of Ontario MCCSS